The final two ScanSnap Manager tabs deal with document sizes and image compression settings.

ScanSnap Manager Tabs 4-6

The fifth tab is Paper Size. The following are the default settings already within the ScanSnap software:
Automatic Detection
Letter (8.5" x 11" / 216mm x 279.4mm)
Legal (8.5" x 14" / 216mm x 355.6mm)
A4 (210mm x 297mm
A5 (148mm x 210mm)
A6 (105mm x 148mm)
B5 (JIS) (182mm x 257mm)
B6 (JIS) (128mm x 182mm)
Postcard (100mm x 148mm)
Business Card (90mm x 50mm / 55mm x 90mm)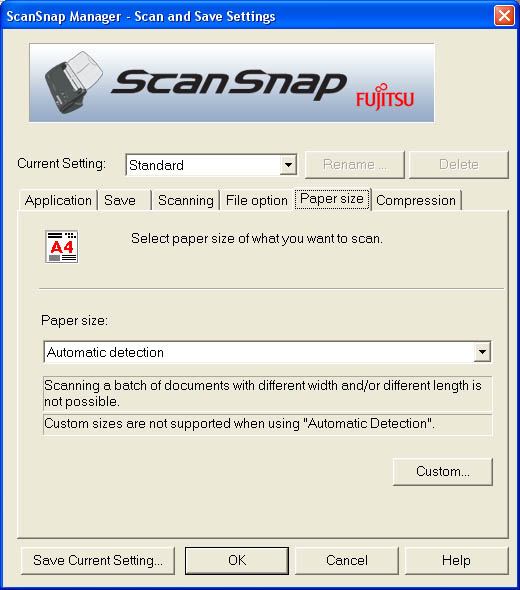 The following illustrations are observed when you click on the Custom button. Up to five additional custom sizes can be added.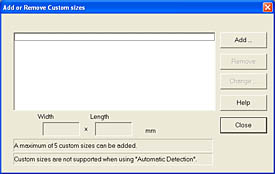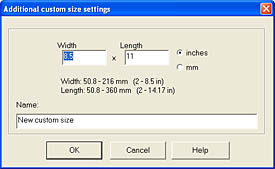 The final tab is Compression. The slider has compression rates of 1-5, and 3 being the "normal" compression rate. Note that this image compression is valid only for color images, so B&W documents will not be affected. Also note there is a checkbox for "High Compression", where all documents will be scanned in color.
Summation Of ScanSnap Manager
As a ScanSnap owner, you have many different selections available to you, which can be "profiled" into different scanning situations, enabling complex settings to be simply called up when needed. This is certainly the most important aspect of making your home and/or work desktop clear and organized.