Installation can be very simple, or it can be very problematic. I had the pleasure of experiencing both.

DO NOT CONNECT YOUR SCANSNAP TO YOUR COMPUTER
WITHOUT FIRST INSTALLING SOFTWARE

Fujitsu has a yellow sticker over the back of the ScanSnap's USB connector port, saying to install the software first before connecting the ScanSnap to a USB port. Normally, you would think Windows XP would be able to handle a USB connection without first installing software. In this case, it is simply not possible. Imaging devices are one of the most tempermental installations for computers, and there is usually a very specific order and method to installing them.

The ScanSnap is one of those devices where you must follow Fujitsu's installation routines, word by word. Currently, there are no exceptions. So, when you purchase your ScanSnap, follow Fujitsu's instructions. They will save you a lot of troubleshooting problems.

Installing The Fujitsu fi-5110EOX2 ScanSnap

The ScanSnap comes with two cds for installation:

1) Full version of Adobe Acrobat 7.0 Standard
Installation of Adobe Acrobat Standard 7.0 takes approximately 5-8 minutes.

2) ScanSnap Setup CD-ROM.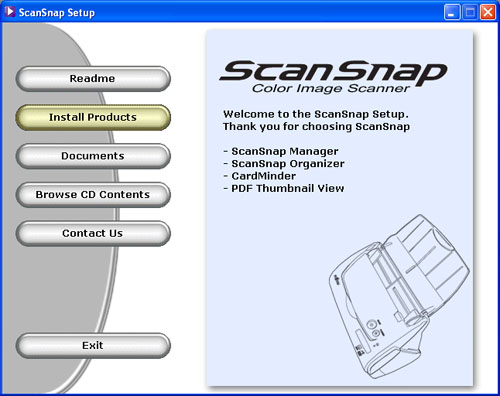 Once you click on the Install Products button, the ScanSnap Setup CD-ROM installs the following programs automatically:
ScanSnap Manager v3.1
ScanSnap Organizer v1.0
Cardminder v2.0
PDF Thumbnail View v1.0
Installation of the ScanSnap software takes about 5-7 minutes.

Total Software Installation Time: ~10-15 minutes