The ScanSnap Organizer is meant to be the place where you store your scanned documents from the ScanSnap. When you scan documents with the ScanSnap, they will be stored for viewing within ScanSnap Organizer.

ScanSnap Organizer

ScanSnap Organizer is where thumbnails of your documents and images will reside after scanning: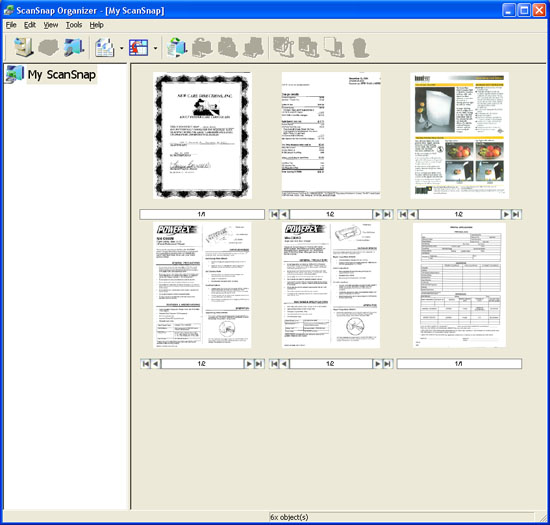 Below you can see the additional window which opens when you rollover a particular document. I found this to be getting in the way of my work more than a convenience.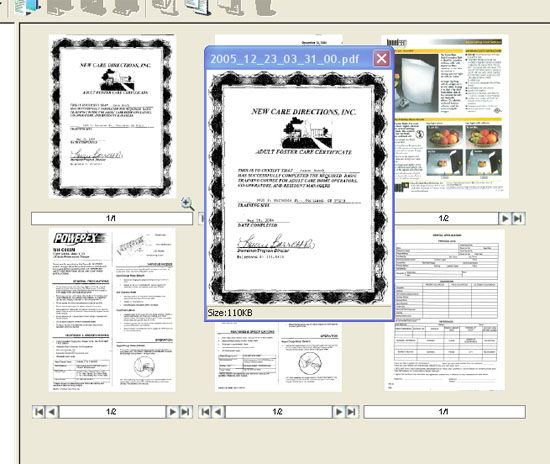 ScanSnap Organizer Version 1.0 Summation
ScanSnap Organizer does an ok job at organizing scanned images. However, I think the program needs an overhaul with how it processes the images for quick viewing, as I experienced long delays in rendering the PDF documents. I can already foresee huge amounts of processing time if I decided to use ScanSnap Organizer for the sole place for my scanning destinations.
Another characteristic of the program which is irritating to me, is the way the preview documents are shown. You rollover a thumbnail image and a larger representation pops up next to it. This is simply redundant image processing. It also gets in the way of other document views. My suggestion, is to make the program work like most other image viewing programs being used by photographers, which is, just enable the thumbnails to be resized themselves, thereby eliminating more image processing. If this is done, you can see all thumbnails resized to whatever specification you want, without the need for an additional window which requires additional processing.
ScanSnap Organizer is the only area of the entire software suite Fujitsu offers, which needs a complete overhaul. I highly recommend you use Photoshop's Bridge browser, or any other browser which renders PDF documents and images. You can choose the destination scans within ScanSnap Manager, so this won't be a problem at all. Simply make a folder titled "ScanSnap Scans" or something, then point the browser within ScanSnap Manager and you're all set.