Software Cinema's latest announcement of titles for Adobe Elements, Adobe Photoshop Elements Fundamentals, is part of a comprehensive guide to using Adobe's very popular Elements application for digital camera users. Software Cinema offers three ways to obtain knowledge about applications: Training Camps, Workshops-On-Demand, and Products-On-Disc. Whatever your particular need, Software Cinema assures to accommodate you in as many ways as possible.

Putting In The Disc

Diving into Adobe Elements and beginning to learn something took only a few minutes. The layout of the DVD is very simple and there are no complicated menus. Simply click on the numbered sessions on the left of the tutorial and the learning begins. Adobe Photoshop Elements Fundamentals contains 25 sessions, which in total are over five and a half hours of video content.

What Is Covered

The following is an index of topics featured in Adobe Photoshop Elements Fundamentals:
Section 1 - Elements Essentials

Session 01: Introduction to the Organizer
Session 02: Introduction to the Edit Workspace
Session 03: Introduction to the Elements Workspace
Session 04: How To Choose Your Image Size
Session 05: Creating Basic Selections
Session 06: Layers
Session 07: Color Management
Session 08: Camera Raw

Section 2 - Photo Optimizing

Session 09: Auto Crop
Session 10: Crop And Straighten
Session 11: Correcting Perspective
Session 12: Quick Fix
Session 13: Levels
Session 14: Shadow Highlights
Session 15: Color Cast Removal
Session 16: Noise Reduction
Session 17: Target Selective Color

Section 3 - Photo Retouching

Session 18: Red Eye
Session 19: Blemishes and Wrinkles
Session 20: Eyes and Teeth
Session 21: Hair Color
Session 22: Rejuvenating Old Photographs
Session 23: Body Reshape
Session 24: Replace Sky
Session 25: Remove Objects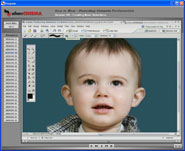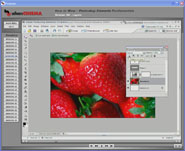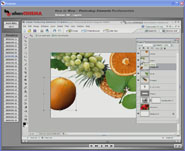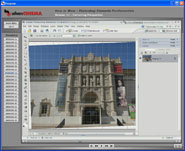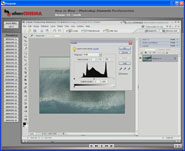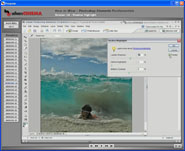 Extensive Amount Of Topics Covered
As you can see from the above index, there are many topics covered which deal with the fundamentals of image editing. And you can go to any topic quickly and effortlessly by just clicking on the appropriate session number. There are no sub-menus which can sometimes be confusing and irritating. Software Cinema has designed this DVD to be compatible over a vast range of imaging users whether they be extremely novice or starting professional.
Watch As Much As You Want, When You Want
What's nice about the layout of the Adobe Photoshop Elements Fundamentals DVD, is the content that is split into 25 sessions, allowing the user to watch as many segments of the DVD as they wish, or only a few.
Pros
Simple layout
Easy access to all DVD contents
Graphic interface is professionally designed and elegant
Recorded actions within Elements are slightly slowed down so the viewer can follow along comprehend the session
Each session is appropriately split into palatable segments for viewing
One of the more affordable "Adobe Training" series
A great collection of images for demonstrating various actions and procedures
Cons
Observations
Appears to not play in modern "home multimedia" DVD players--only PC-based DVD players
This is the first Software Cinema DVD for DigitalDingus to review and I had a great time going through the material. In fact, I just might insert my Elements CD-ROM and start using it instead of Photoshop CS2 for many tasks. The layout of the Fundamentals DVD-ROM was professionally done, but extremely simple to navigate through. I also found myself watching a few sessions here and there at my leisure. I'm sure many viewers would like such a format, instead of one or two long continuos clips which I've encountered on other tutorials.

I did notice an observation which may come across users of this series. For curiosity's sake, I put the DVD in my Philips DVP642, which is known to be an inexpensive but very versatile DVD player for a wide variety of media formats. I was able to access the folders of sample images, but unfortunately could not play the DVD with narration and all the other necessities. On the top left of the DVD, it does say "DVD-ROM For Computers", but I wouldn't mind having the series compatible with home DVD players.

HIGHLY RECOMMENDED PLUS

Adobe Photoshop Elements Fundamentals comes with wisely chosen images to further your learning of Adobe Elements. The images should also be familiar to anyone who shoots a wide variety of subjects. While vacationing on a beach taking images of the water, to photographing fruits and vegetables, Software Cinema's Fundamentals image collection is a welcomed representation of real world images which many digital camera users will take and edit in Adobe Elements.

Mike McHugh, Wayne Rankin, and Jack Davis have once again created a series for digital photographers which will certainly improve workflow speeds and quality of that workflow. The cost of the DVD was only $45, and is certainly worth it if you consider how lengthy the DVD actually is. Five and half hours. Now, how much do you think it would cost to have a graphics designer come to your home for five and a half hours? Well, it would probably cost you around ten times the amount of the DVD. This is what I like about Software Cinema. They create a package which has a professional speaking about the different actions available within Elements and it's available anytime you want to watch and learn.