Software Cinema's latest announcement of titles for Adobe Elements, Adobe Photoshop Elements Creations, is part of their "How to Wow" series which is currently one of the most successful tutorials avaliable for digital camera users. Software Cinema offers three ways to obtain knowledge about applications: Training Camps, Workshops-On-Demand, and Products-On-Disc. Whatever your particular need, Software Cinema assures to accomodate you in as many ways as possible.

In this review, we're taking a look at another Adobe Elements title from Software Cinema. This particular title offers additional material and should be purchased with the Fundamentals DVD for a more robust knowledge. Creations deals with photo enhancing, creative projects, and creative presentations which are divided into the respective three sections of the DVD.

Creations vs. Fundamentals

Software Cinema's Fundamentals deals with introducing the user to the GUI of Adobe Elements and slowly progresses through the many different tools available. Basics such as Red Eye removal, straightening images, removing objects, and other essentials are covered. Creations is a little more advanced, and provides in-depth explanations of more sophisticated operations such as promotional cards using the layers, shapes, and How to Wow presets. Multimedia slide shows, greeting cards, photomerge panorama, and scrapbooks.

For The Professional Photographer

If you're getting paid any amount of money to take images, and your images are purchased--you're a professional. So, pat yourself on the shoulder. Software Cinema offers some really interesting tutorials on contact sheets (Session 22), picture package printing (Session 23), and even your own digital signature (Session 11). For the photographer who is looking to expand their workflow and reducing the time within that workflow, I highly suggest these particular sessions.

The Photo Enhancing section also has an exciting collection of sessions for photographers. Skin smoothing and skin conditioning, just to name a few. These two image procedures are vital to a photographer's core skills.

Putting In The Disc

Placing the DVD disc into my computer DVD player, Software Cinema's Creations started right up and I was watching Session 01 in no time. Adobe Photoshop Elements Creations contains 23 sessions, which in total are over four hours of tutorials. The disc layout is the same as Fundaments and operates just as simple and convenient.

What Is Covered

The following is an index of topics featured in Adobe Photoshop Elements Creations:
Section 1 - Photo Enhancing

Session 01: Blend Modes
Session 02: Dodging and Burning
Session 03: Motion Blur
Session 04: Skin Conditioning
Session 05: Skin Smoothing
Session 06: High Contrast
Session 07: High Pass Enhancement

Section 2 - Creative Projects

Session 08: Pen and Ink Watercolor
Session 09: Tattoo Additions
Session 10: Wrapping Paper
Session 11: Digital Signature
Session 12: How to Wow Presets
Session 13: Postage Stamp
Session 14: Book Cover
Session 15: Promotional Card

Section 3 - Creative Presentations

Session 16: PDF Slide Show
Session 17: Multimedia Slide Show
Session 18: Greeting Cards
Session 19: Scrapbooks
Session 20: Web Photo Gallery
Session 21: Photomerge Panorama
Session 22: Contact Sheets & Printing
Session 23: Picture Package Printing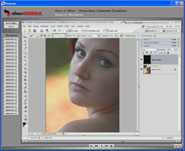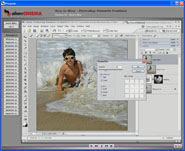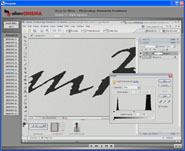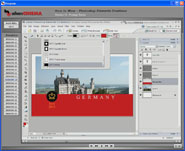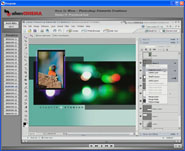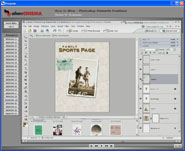 Watch As Much As You Want, When You Want
Just like Fundamentals, what's nice about the layout of the Adobe Photoshop Elements Creations DVD, is the content that is split into 23 sessions, allowing the user to watch as many segments of the DVD as they wish, or only a few.
Pros
Simple layout
A little more advanced than Fundamentals
Geared more towards the professional photographer and graphics enthusiast who routinely use Elements for their presentations, whether they be for the office or for the family.
Easy access to all DVD contents
Graphic interface is professionally designed and elegant
Over 4 hours of video content
Recorded actions within Elements are slightly slowed down so the viewer can follow along comprehend the session
Each session is appropriately split into palatable segments for viewing
Still is one of the more affordable "Adobe Training" series
More intuitive collections of images for demonstrating various actions and procedures
Affordable learning
Cons Software Cinema's Adobe Photoshop Elements Creations is a welcome addition and follow-up title. On this DVD there are three main sections which target the professional or soon-to-be professional. There are many new tools available, not to mention valuable time-saving shortcuts to completing various projects. Software Cinema's Creations deals with contemporary hobbies such as scrapbooking and also gives the photographer ways to make a distinguished presentation when printing contact sheets and print packages.

HIGHLY RECOMMENDED PLUS

Software Cinema's Adobe Photoshop Elements Creations still maintains its one-on-one style and watching the DVD myself, I never found it to be alienating--which is essential to understanding and learning today's image processing applications.

As noted above, Creations is a little more in-depth and I consider it more advanced than the Fundamentals DVD. I recommend watching and interacting with the Fundamentals DVD first before watching the Creations DVD. However, if you're already familiar with Adobe Elements, then Creations will probably be just fine for you.

The Creations DVD sells for $45, which again, is very reasonable considering your alternatives of having a professional coming over to your home and teaching you.

Free Workshops

In addition to the wide selection of tutorials, Software Cinema also provides Free Workshops. These free workshops can be viewed when signing up on Software Cinema's website.