Alien Skin BlowUp
Features: Enlarge images up to 1600% (4x) their original size without halo and stairstep artifacts.
Requirements: Adobe Photoshop or Elements
Official Website: Alien Skin
MSRP: $199.00 / Alien Skin Owners: $149.00
Current Price: Click for best price

Blow Up's interface is simple and few extra options other than what you see when you open the application. There are 8 specific areas within the interface which separate different aspects of the control panel. This interface might seem too simple and you might wonder just how powerful this application really is. Well, not to fear, because Blow Up supports 8-bit, 16-bit, and 32-bit images, in addition to RGB, CMYK, Lab, Grayscale, and Duotone image modes.

What's even more exciting about Blow Up, is creating Photoshop actions. This would specifically be helpful for processing a large amount of images for consistent results.

The 8 Sections Of Blow Up

When you first open an image within Blow Up, you'll see the following 8 different areas.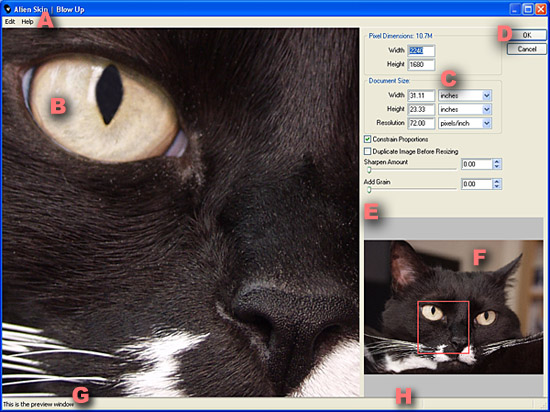 These 8 areas are described in more detail below:
(A) ... Menus - A limited amount of features offered here, but one which is very important, is the Edit option, which has unlimited undo or redo settings
(B) ... Preview - Taking up most of the Blow Up window, the Preview is fixed at 100% so you'll never be confused with actual size versus a zooming or magnification size
(C) ... Resizing Controls - These controls let you set the size and quality of your final output settings
(D) ... OK and Cancel buttons - Somewhat self-explanatory, these buttons confirm or cancel your settings
(E) ... UpToDate Message Indicator - Alien Skin has a hyperlinked message which will appear in this area when messages from Alien Skin are sent to you. You can also view the messages online in browser
(F) ... Navigation Thumbnail - This particular feature shows you exactly what area within your image, is currently being targeted
(G) ... Mouseover Help Area - When your mouse pointer moves over certain areas of the Blow Up interface, you will see brief descriptions in the MHA
(H) ... Progress Bar - Displays an ever-increasing green bar as the processing furthers to completion; the longer it takes for the bar to complete, the more processing is being done
Simple But Effective Interface
The interface of Blow Up is basic, and might even appear too basic. However, Alien Skin has designed the interface to require the absolute minimum amount of required buttons and layered menus. Blow Up is designed to be a quick and highly powerful application within your Photoshop or Elements software program.