Alien Skin BlowUp
Features: Enlarge images up to 1600% (4x) their original size without halo and stairstep artifacts.
Requirements: Adobe Photoshop or Elements
Official Website: Alien Skin
MSRP: $199.00 / Alien Skin Owners: $149.00
Current Price: Click for best price

Now that we've taken a brief tour of Blow Up's interface, let's do a little processing. Processing an image is very simple to do. Simply enter in the desired pixel dimensions or the percentage of the image you want enlarged, and Blow Up does the rest. We should note the quality of the image is of course dependent on the size of the image itself. Below, I've selected a rather small thumbnail image, and then increased it by three-times it's size (300% within Blow Up). We also should note when it comes to enlarging images, the quality will also be dependent on other factors like the subject, colors, edges, and many other subtle differences which may not be noticed initially.

Blow Up In Action

Let's take a small thumbnail of an image and "blow it up" to see what happens.

The following image is a resized thumbnail which has the specifications of 100 x148 pixels and 144 pixels/inch resolution. The next page will deal with comparisons from different resizing software applications, but for now, we'll concentrate on what Blow Up does by itself, with no comparisons. The resulting image below was resized to 300% of the size of the original image. For such little information present in the thumbnail, the rather large 300 x 444 image doesn't look bad. It does have a photoshop filter look, specifically one of the Sketch filters. Notice there is quite a bit of blurring present, but I'll show you a trick I often use for blurred images (Alien Skin also mentions this as well but I have a specific technique I will share with you). Alien Skin does have their own built-in "noise" generator within the application, but I've observed it's not as powerful as Photoshop's noise filter/generator.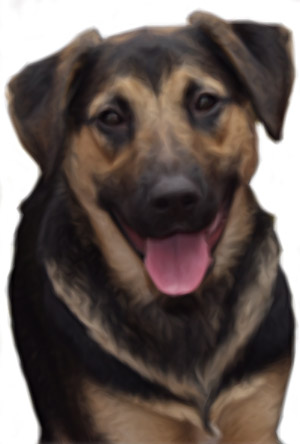 The image below had these Photoshop filters applied:

Noise - Uniform (select Monochromatic as we do not want colored noise); Amount: 5%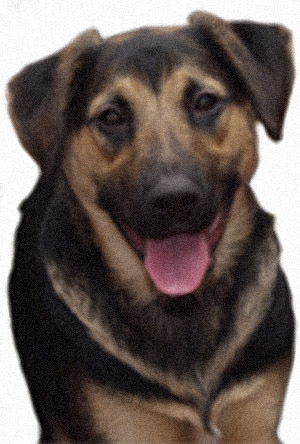 Notice how adding noise to an ultra-smooth image can actually give it some "dimension" and perceived sharpness. It actually looks better when printed.

A Note About The 30,000 Pixel Limit

If you REALLY need to go beyond the 30K pixels limitation of Blow Up, a way to get around this, is to split your image into 4 pieces. Process the 4 images separately in Photoshop, then combine the images in your favorite image editor. There are specific programs which deal with creating extremely large images and some are even compatible with Photoshop, so you might do some Googling for them. Unfortunately, I don't have time here because this would entail a huge review in itself. Suffice it to say, if you want the benefits of Blow Up and need 30K+ image sizes, it can be done.