In the lower-left of the main album display, we see an area which describes the photo. In this example, we have the image name, time and date photo was taken, resolution, and size. We also have a nice little feature called KEYWORDS.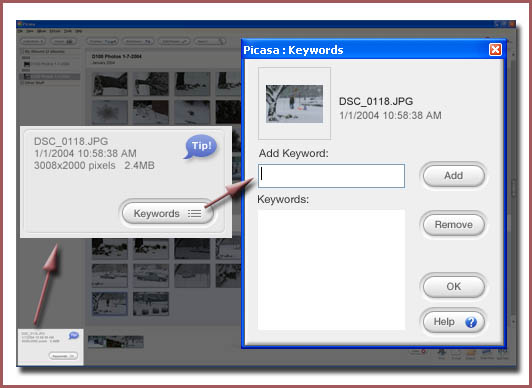 After clicking on the "KEYWORDS" button, enter in a word. This word is added to the image. If you enter in the same word for another image, that image will come up also when using the SEARCH feature in the main toolbar, above your album. I added the word "snow" to 3 photos in total. Later, we will see how these keywords work.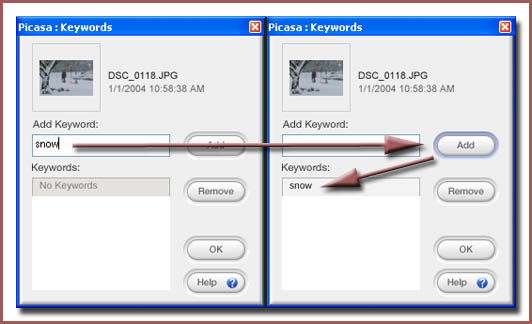 If you enter in multiple words, with spaces, Picasa will deem them as separate words, and will assume each word separated with a space, will be associated with that particular photo. This comes in handy if you want multiple words associated with several images, and don't feel like repeating a lot of steps.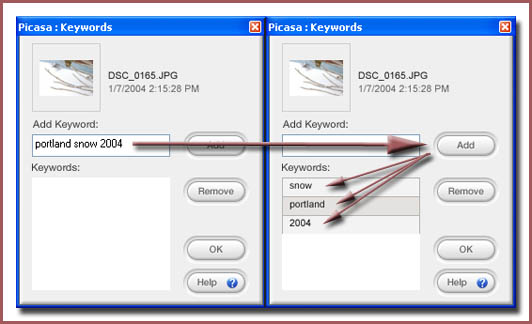 And speaking of making things less troublesome, you can select multiple images at once and assign multiple keywords. Press and hold down the CTRL key on your keyboard, then left-click your mouse on the images in your albums you want to have the same keywords assigned. The images selected will be outlined in blue. You can do this in a few ways by highlighting multiple images in the main album area, or you can highlight images in the Picture Tray.