The Import button does exactly that; it allows you to import photos from an external connection. If you have an external drive, CF Card Reader, or a digital camera, this is where you can import your photos. The following example is of my D100 connected to my computer. The photos were taken during a White Balance test.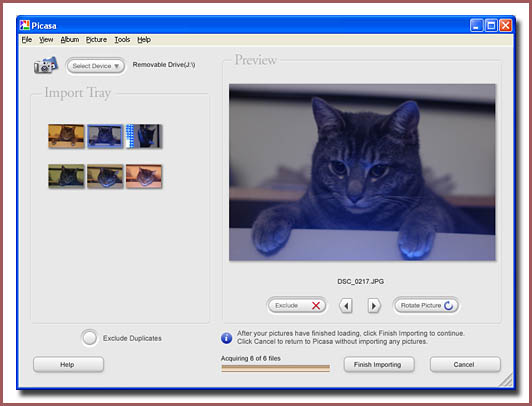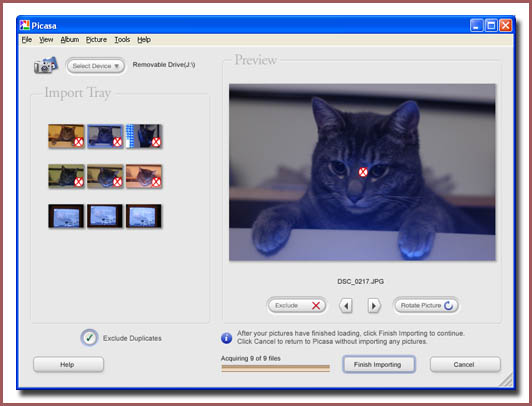 Notice how duplicates are flagged by Picasa

If you want the images to be placed on your computer, you simply click the FINISH IMPORTING button, and the following window appears (also take note you can change the date and add a caption to your album)...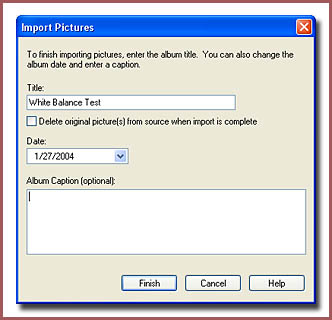 Once the images are imported into Picasa, they go into the MY PICTURES area on your PC, by default. I am using Windows XP Pro for Picasa, so there may be slight variances for other OS systems. In any case, you can locate your images you just imported (and currently see in your Picasa Album), by selecting ALBUM, then choosing LOCATE ON DISK. "But what if I want my imported photos to go somewhere else?" You're asking. Well, this isn't a problem. By going to OPTIONS in the main menu area (located above your main toolbar), the GENERAL tab is automatically shown, which gives you (among other options), the ability to browse your computer and select a different default folder (shown below).