I happened to come across Picasa during CES 2004. Picasa takes photo albums to an entirely different level. If you have a collection of photos, spanned across different folders, you definitely want to give Picasa a try. Picasa has the ability to not only give novice digital camera owners a sense of control over their photos, but professionals who have thousands of photos to categorize.

Picasa can read several file types (JPEG, GIF, TIF, BMP, PSD) and movie file types, such as WMV, AVI, MPG, and ASF. Picasa is not just a photo viewer and organizer, but a multi-media solution to your digital life. And way of life.

First Impressions

Wow. I was really amazed at the quickness of this program, and it's simplicity. As a photographer, you know very well, viewing your images quickly is one of the major aches and pains of doing what you do on software programs (need I mention the Adobe Album viewer in Photoshop CS, the latest version, which is utterly slow and I don't see it as a feature). Some programs are better off with a single purpose, and this is where Picasa comes into the picture. Face the facts folks, there will probably never be a program which will do everything for you. There are editing programs, processing programs, and viewers and organizers. Picasa is one of the best, if not, the best viewer and organizer I've seen--and even does some quick editing features which can save you time. I've used so many programs over the years, my computer registry can tell you the very ugly story.

In addition to owning Picasa, there is another aspect which is becoming more and more necessary in the world of digital photography: sharing photos online. You're probably. "But, I have AOL, and I can embed pictures..." True, but when you use HelloTM, you will wonder why AOL was even used. HelloTM is the fastest online image sharing program I have seen. Even those who use a typical 56K modem, are commenting that it is very fast.

We'll take a look at HelloTM a little later in the review, but first, let's begin the tour of Picasa...

Installing Picasa

Installing Picasa is fairly easy. Let's take a look at the pre-installation routine...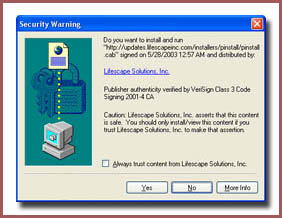 Instead of downloading the file, and then unzipping it or using some other kind of file de-compressor, Picasa has its own interface and takes care of this for you. Simply click on "YES", and the download begins.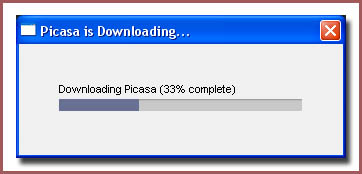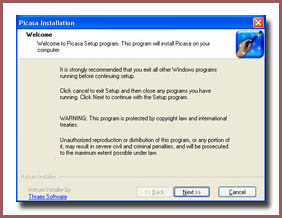 At this point, you can either enter in a serial number if purchased already, or click on "TRY", which will result in a 15-Day Trial Period, or click on "BUY", which will send you to a page to purchase Picasa.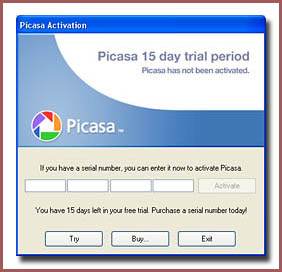 Now that the basic installation is done, let's take a look at the next screen you will see...