6x2 Component Matrix Switch
by Impact Acoustics
Features: 6 component inputs, 2 component outputs. TOSLINK audio inputs. Connect two monitors or other devices and have simultaneous display of video source.
Official Website: http://www.impactacoustics.com
MSRP: $179.99
Current Price: Click for best price

Impact Acoustics packages their product just about exactly how I want products to be packaged. First, the box is heavy duty. Second, the 6x2 component matrix switch (40697) is wrapped with a thin sheet of plastic paper, and then third, bubble wrapped. This ensures the component switch box is not contaminated by dust. But that's not all to the packaging. There is a cardboard "ring" on the inside which protects the 40697 even more. Suffice it to say, when I handled the box for the first time, nothing was sliding around inside, and when I opened it for the first time, the package was tightly wrapped and there were no large gaps for the unit to move around during shipping.

There's not much to really elaborate on in this segment, but here is what I found in the box:
6x2 Component Video Matrix Switch ("40697")
IR Remote
AC Adapter
User Manual
The "40697" Component Video Matrix Switch
Seen below is the 40697, which looks like a typical A/V home theater device. You've probably never seen a component like this which has the exclusive job of switching your video gear, but now you have. Quite nice, isn't it? What I like about the looks, is Impact Acoustics has made it so it blends well with your other components, and doesn't stand out like "geek device". No, there aren't any neon underglow lights.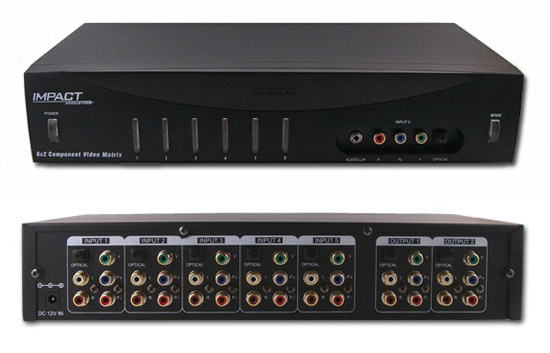 A total of five component video inputs, each with a TOSLINK audio input, are on the back. Two outputs with the same audio and video features are also seen here. Now, some of you may not be aware of TOSLINK or S/PDIF audio feeds. For those who need TOSLINK jacks for their components such as a DVD player, this is essential. For those who require the S/PDIF audo feeds (the jack looks like an RCA jack but has either "Digital" inscribed over it or "S/PDIF"), you will probably be looking at a different model from Impact Acoustics, such as the SW104HD.
A minor peeve I have is the width of the 40697. A typical electronic component is 17" in width. This is a manufacturing standard in the consumer market so that they will not only have a standard for width, but also fit uniformly in a shelving system without one component sticking out at 25" and another at 7". However, there are exceptions of the 17" rule, and depending on the amount of electronic innards, the width of an electronic component can be smaller or larger. In this particular case, the 40697 has a width of 13.5", which is 3.5" short. Needless to say, if you want the device to have a nice clean profile with your other components, it will look ok, but it will appear shorter on the left and right ends. Impact Acoustics still does a great job of the overall design, so the width isn't too much of a problem, and few would notice the issue.
IR Remote
The IR remote is small and very thin. Not particularly recommended by yours truly for day-to-day use, it would more than likely be used for sending commands to your universal remote.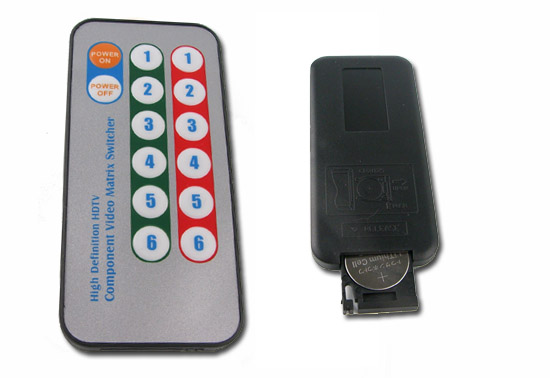 The only reason I say this remote should not be used daily is because it could easily get lost. Just think about how often you lose your typical remote, and then compare its size to the 40697's remote: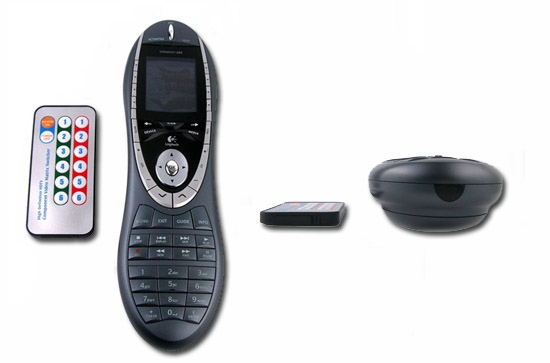 AC Adapter
The AC adapter is a typical power adapter, but I do have some observations and suggestions on its design for this particular device. Due to the size of the adapter, it cannot be conveniently plugged into a receiver which has switched/unswitched outlets. So, a person is forced to use an outlet strip. More than likely, the wall outlet is not an option because it is probably being used already. This creates more needless AC wire excess which I do not prefer. Solution? Rather simple, actually. If you've read my reviews on Maha products, you'll see Maha has a great AC adapter design for some of their higher end chargers. Since the bulk of the AC/DC transformer is now positioned centrally in the AC path, you have a generic AC cord coming out of the transformer of a few feet or more. This cord would perfectly be used for the back of a receiver's AC outlets because it would not have the infamous "Big Head" syndrome of the type of AC/DC charger shown below.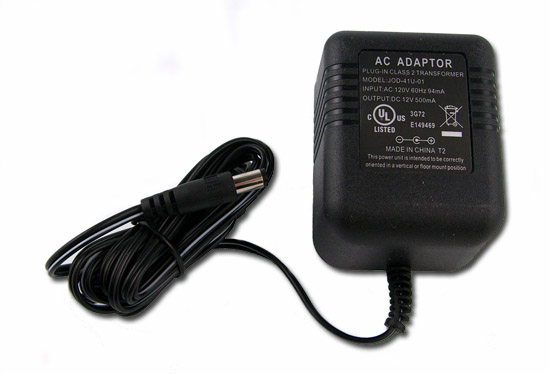 User Manual
Surprisingly, the user manual does go into detail on using the 6x2 Component Video Matrix Switch, which does help clarify a few settings. Several examples are given to familiarize the user with just how powerful this component switch box can be.