6x2 Component Matrix Switch
by Impact Acoustics
Features: 6 component inputs, 2 component outputs. TOSLINK audio inputs. Connect two monitors or other devices and have simultaneous display of video source.
Official Website: http://www.impactacoustics.com
MSRP: $179.99
Current Price: Click for best price

Let's take a closer look at the 6x2 Component Video Matrix Switch. A Quick look at the back of this rather interesting device could be a little scary for anyone who hasn't had an experience with connecting several components together. However, if you've managed to hook up your television, A/V receiver, and DVD player, and can use a remote to switch back and forth between the DVD player and your television broadcast, you should be ok. To make the switching between several components easier, Impact Acoustics has color-coded the status of the buttons.

The Front Of The 40697: Input Buttons

The input buttons, being transparent and clear when not lit, are multi-colored. Green, orange, and red make up the colors which convey the status of the inputs and outputs of the 40697. These input buttons are to be used in conjunction with the MODE button, shown further down below. We'll get into more detail of just how these buttons work, in the next section of this review.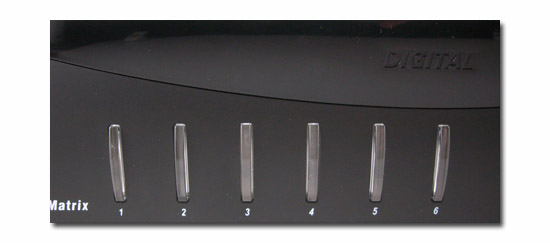 The Front Of The 40697: Inputs
The 6th input of the 6x2 Component Video Matrix Switch is located on the right-hand side of the front of the unit and accepts the same types of inputs, except for the L/R composite audio which has been replaced with a 3.5mm (1/8") jack. Impact Acoustics probably designed it this way so that you could hook up your portable DVD player or similar device which had 3.5mm plugs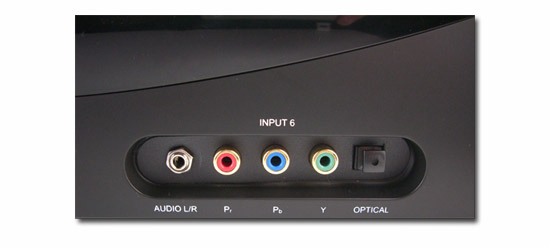 The Front Of The 40697: The MODE Button
The MODE button is what dictates where your inputs are going (either Output 1, Output 2, or both).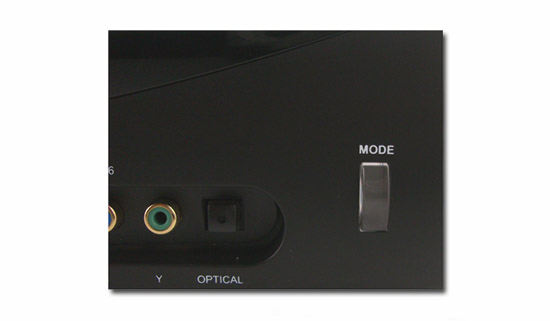 The Back Of The 40697: Inputs
On the back of the 40697, you can see just to the right, the DC input jack, and then the 5 inputs just to the right of it. TOSLINK audio is featured on this particular model, and for those who have several TOSLINK devices (such as DVD players and audio processors), you're in heaven.

The Back Of The 40697: Outputs
The two outputs of the 40697 are located just to the right of the 5 inputs shown above. These two outputs can be wired for two televisions, or one television and a video recording device, or any kind of layout. It all depends on your own customization needs.