Eye-One Display 2
Dynamic Range: Black point: 0.05 cd/m2
Dynamic Range: White point: up to 1,000 cd/m2
Interface: USB data and power supply
Weight: 90g (3.1 oz)
Warranty: 1-year warranty
MSRP: $249.00 | Click For Best Price

Just about being finished with the calibration, the next step is adjusting your luminance and finally, saving your settings as an ICC profile for future retrieval. You may not have been interested in ICC profiles that much until you purchased the Eye-One, but I can tell you, the ICC profiles come in handy if your computer system, for whatever reason, is reset or crashes. But more importantly, it's nice to have one profile for consistent colors across all your color-related hardware (monitor, printer, image editor, digital camera, etc.). If there are times when a specific color profile is needed, it can be saved as well for future retrieval. ICC profiles give you control over your computer peripherals, and allow for a more consistent color output.

Set Your Luminance (not available in Easy Mode)

Setting your luminance is the same as the previous screen we looked at. You need to adjust your monitor's luminance so that the indicator is in the center of the green tolerance area. After this is done, it's now time for the Eye-One to begin measuring and calculating all the adjustments.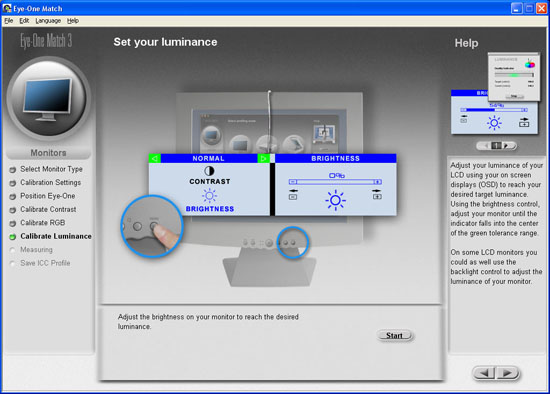 Save ICC Profile
Now that you're finally done, you can save your ICC profile as well as rename it to whatever you wish. In addition, by clicking on the Summary button, you will see an informative display of your monitor's adjustments and color space range (color gamut). By clicking on the Calibration On, you will see the difference on your monitor with your new profile. Click the button again, and it will turn it off.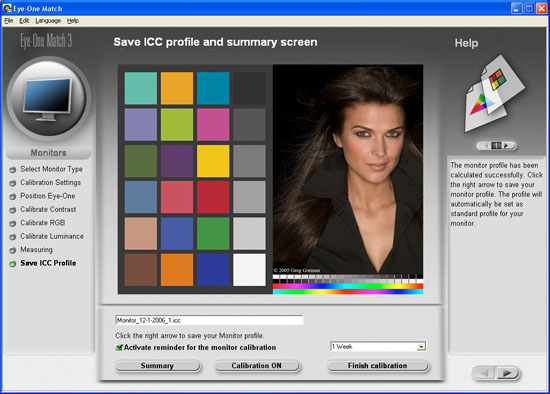 Summary Screen
When you arrive at this screen, you have a nice amount of information about your monitor. Two graphs are seen. The first one is basically telling you how much "work" your monitor did to get the target profile. In my particular case, the monitor didn't have to do much at all because it was previously calibrated. If you just received your monitor from the factory, you would probably see a bigger difference of RGB lines being outside of the 45-degree target. Which brings up another point. You want your settings to be as much on a 45-degree angle as possible, as this represents the ideal target profile. I'll discuss this more below.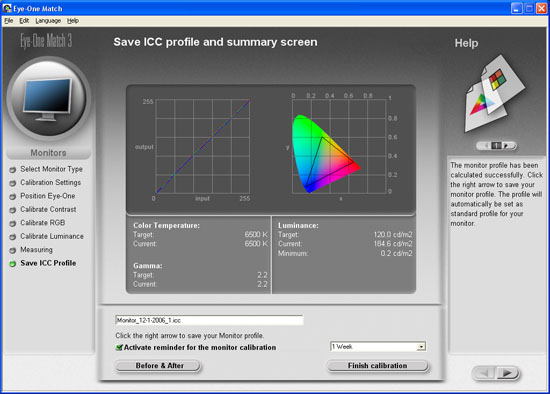 The second graph is where things get interesting (at least for me anyway). Here is where you are shown how much color space your monitor can display, versus the RGB color space. If you read the introduction on the Eizo ColorEdge CE240W, you will understand that almost all LCD monitors display the sRGB color space (which is what you see in this graph within the triangle). It may be possible to "tweak" your colorspace triangle by increasing your luminance setting (brightness) but I haven't confirmed the results and they will vary per monitor so I leave that possibility up to you. Please note if you do increase your luminance, you will null and void your ICC profile UNLESS you specifically have that luminance level in your calibration settings before adjustment.

Let's take a closer look at the two graphs below:
GretagMacbeth says the Correction Curve Graph is actually saved to the graphics card to achieve the desired gamma and color temperature. The more straight the RGB lines are along the 45-degree axis, means less corrections made, resulting in a better calibration. If the RGB lines in your particular result are not exactly on the mark, this ok, says GretagMacbeth. As long as the color temperature is within 100K, and the measured gamma is within .1 of the target gamma, it is considered good.

Side-Note: Get A Good Graphics Card!

Just a little side note, but since GretagMacbeth mentions the graphics card, I thought I would reinforce that statement. In order to get high-quality desired results, you need a high-quality monitor (of course), a high-quality calibration system (which we are using), but we also need a graphics card able to pump out the power to the monitor. I am currently using two different types of video cards because I have two computer systems. One is a BFG 5900XT OC AGP card, and the other is a XFX GeForce 7950GT. If you will be using a 20" or larger monitor, I recommend upgrading from ANY 5900 series video card, whether it's AGP or PCIe, and investing in a 7000 series card. The 5900 series just can't handle the power output needed. The 6800 series works great, but currently are selling as much as 7000 series cards so it's no benefit to get the 6000 series at all.

Calibration Reminder

An option to remind yourself of calibration intervals is possible, and you have four options, ranging from every week, to once a month (every 4 weeks). I would recommend every week for the first month to see if your settings are staying accurate, and if they are, then only once a month is necessary. However, your workflow might demand a more rigorous discipline.