Eye-One Display 2
Dynamic Range: Black point: 0.05 cd/m2
Dynamic Range: White point: up to 1,000 cd/m2
Interface: USB data and power supply
Weight: 90g (3.1 oz)
Warranty: 1-year warranty
MSRP: $249.00 | Click For Best Price

Continuing from the previous section, we are now going to place the Eye-One on the monitor (without the ambient light attachment). Now, GretagMacbeth makes note you can place the Eye-One anywhere on the monitor screen, as the software automatically coordinates the position of the Eye-One. This is very convenient, and speeds up the calibration process.

Place Your Eye-One On the Monitor

GretagMacbeth includes a counterweight for balancing the Eye-One colorimeter on your monitor, but I found the counterweight to be an irritation to use as the USB cable to the Eye-One would tend to pop out of the counterweight retention gaps. A much more commonsensical approach, would have a counterweight with snaps, which grip the cable, thereby allowing quick attachment, and quick disengaging from the cable. Hopefully we'll see a new design in the counterweight on future Eye-One models.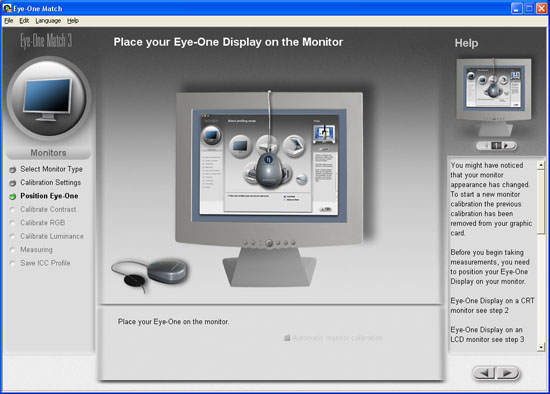 Set The Contrast (not available in Easy Mode)
When setting the contrast, you set your monitor's contrast to 100%, press Start then back down on your monitor's contrast until is in the center of the green tolerance range.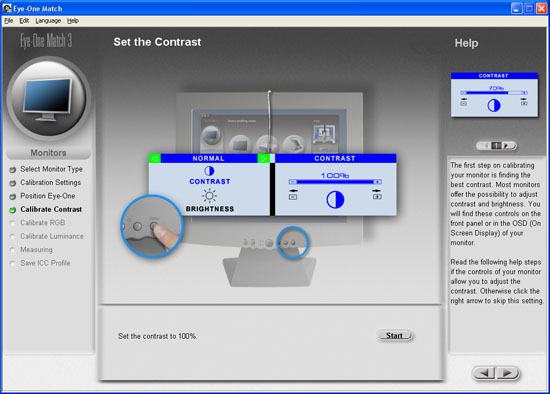 Set The White Point (not available in Easy Mode)
Here you can set the White Point of your monitor, by individually adjusting the R-G-B channels. This is a little involved, but still comparitively easy to as the help section is right there with you, informing you each step of the way.