Eye-One Display 2
Dynamic Range: Black point: 0.05 cd/m2
Dynamic Range: White point: up to 1,000 cd/m2
Interface: USB data and power supply
Weight: 90g (3.1 oz)
Warranty: 1-year warranty
MSRP: $249.00 | Click For Best Price

I found monitor calibrating to be quite simple using the Eye-One Display 2 colorimeter and GretagMacbeth's iMatch 3 software. In this section, we'll look at (and go through) the steps to calibrating an LCD monitor. In this particular case, I'll be using the Eizo ColorEdge CE240W LCD monitor as a reference. If you're looking for a high-end piece of equipment to display your digital images, I highly recommend the CE240W.

Selecting Your Device

Depending on what devices are attached to your computer, you can choose from a variety of computer peripherals. In this case, I choose the monitor icon.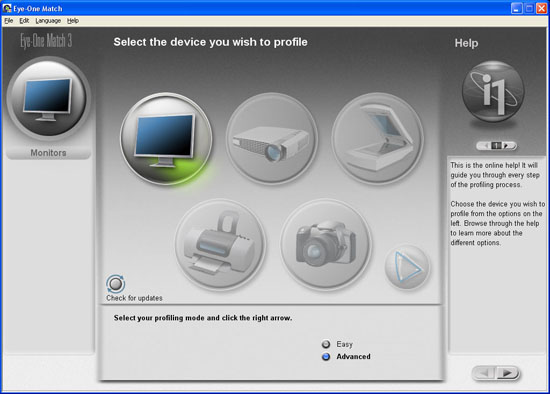 Once the monitor device is chosen, we also have the choice of either Easy or Advanced calibration. In order to show what options are available, I chose Advanced. The simple way to calibrate removes the Calibration Settings, Calibrate Contrast, Calibrate RGB, and Calibrate Luminance options.

LCD, CRT, or Laptop?

Different screens require slightly different calibration options, and iMatch provides 3 different types: LCD, CRT, or Laptop.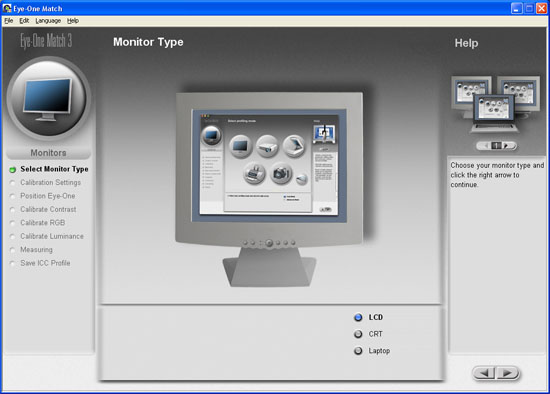 Calibration Settings (not available in Easy Mode)
Here is where you set your calibration target. The most common is using a Gamma of 2.2, with a brightness level of 120cd/m2, and a temperature of 6500K. However, depending on what type of work you do, the target might be different.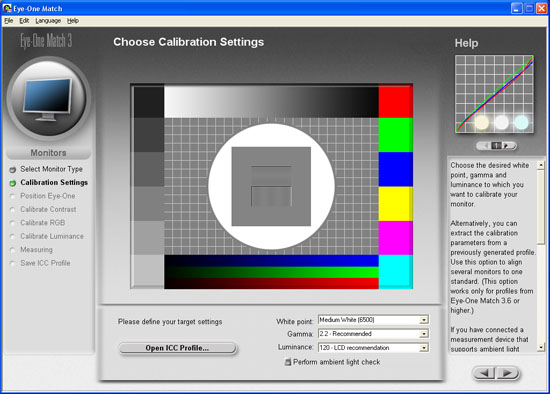 Also available is the option to load a previously stored ICC Profile, and performing an ambient light check with the Eye-One colorimeter. You can also match multiple monitors but requires an ICC Profile from Eye-One Match 3.6 or higher.