Pros
Simple calibration of your monitor within a few clicks
Very accurate
Colorimeter does not have to be in the center of the screen and can be placed just about anywhere for the calibration process
Before and After examples to show what changes were made to your monitor
Multiple monitor support
Ambient light head measures your surrounding light, as well as functions as a protective case
Help Menu is a fail-safe for successful calibrations and is very informative
Summary Report gives vital information for analysis and comparisons
Unlimited gamma white point settings
Ambient light can be checked and adapted to different ambient environments
Unlimited luminance settings
Can be used for CRT or LCD displays, and even laptops
Several small suction cups gently attach to your LCD display yet firmly to a CRT
Small form factor design
Eye-One Display 2 calibration information can be used for "trends" over time with your monitor's profiles, giving you an idea of how your monitor is handling the adjustments
Correction Curve Graph and Color Gamut Graphs are some of the most helpful graphs which photographers and graphics designers can use for their workflow
Cons
USB cable of the Eye-One tends to pop itself out of the counterweight retention grips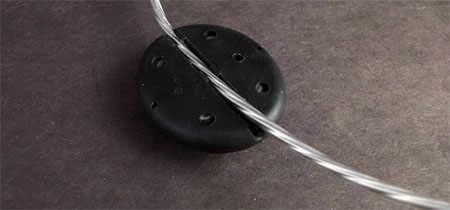 Observations
Suggestions
Engineer the counterweight to snap on the USB cable versus the cable having to be pushed into the counterweight's grooves
A PDF of the user manual would be nice so you wouldn't need the actual program initiated to view the information
I have to admit, using GretagMacbeth's Eye-One Display 2 was easy, and yet so informative at the same time. Using the Eye-One in Easy mode was almost too easy. When calibrating in the Advanced mode, it was still a simple process, as the help menu was right there with me, explaining every step of what was being done. Overall, it took around 15-20mins for complete calibration in the Advanced mode and roughly half that in Easy mode.

HIGHLY RECOMMENDED PLUS

The only Con I experienced was the design of the counterweight. Needs to be re-designed. I would much prefer something which attaches to the USB cable, rather than vice versa. I also think the counterweight is just too small and is barely functioning as a counterweight as the Eye-One is rather heavy. And just as a side note, there has to be a way to design a different counterweight product altogether because even with the counterweight having a "snap-on" capability, it's still awkward letting it sit on the top of the LCD or behind it, because there are countless LCD display enclosures which vary in thickness and characteristics which are not "counterweight friendly". Other than this, I found no other cons.

As far as observations and suggestions, I would highly recommend a PDF manual of the information GretagMacbeth includes within the Eye-One Match 3 software. I find it a little irritating I have to open the program itself and actually calibrate the monitor again to view the helpful information. Not exactly convenient.

A really cool feature of the Eye-One D2 is performing ambient light level checks with the included ambient head which attaches to the Eye-One D2 itself. Also, the head functions as a protective case so the sensing element remains safe from falls off the desktop.

So, by now you're going to ask if the Eye-One Display 2 is worth the $200 asking price. Hell yes. I have no reservations highly recommending this to anyone. If you're a digital photographer, this should be in your workflow. As stated earlier, many people think you calibrate once and then forget about it. Well, this is just not the case at all, and when you purchase a device like this, you certainly will be using it on a regular basis. Your images will be more consistent, not only on your favorite display screen, but more importantly, the output. The output is where all of this calibration is most valued and where it pays off.