The final tools within Exposure are the ones which control the perception of grain within the image. This particular tool I didn't use that much, but I can understand when it would be used under circumstances which have a lot more grain within the image, or to bring out particular effects in the shadows, highlights, or midtones. Additionally, if you're a true film user, you will more than likely use it much much more than a typical digital user because you're familiar with grain characteristics.

Exposure \\ Grain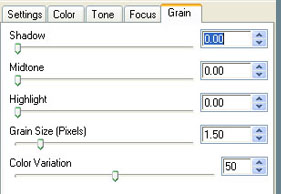 As stated above, I used these tools in a few images but didn't really observe much of a difference. I say this to forewarn "digital" Exposure users in thinking there will be dramatic differences. When using Shadow and Midtone levels, you will notice much more effect versus the Highlight level.
The amount of effect you desire is also going to depend on the type of film stock filter you choose. You may notice an effect more when you filter the image with Black & White film stocks versus color stocks. It will also depend on the subject and characteristics of the image as well. So, overall, you will more than likely use this tool hardly at all and stick with the others.
Grain is not to be confused with what you see in today's digital images which show "noise". Real film grain appears in discriminate ways, across tonal ranges in an image. It is certainly NOT square like a pixel which displays noise. The irregular shapes and random spacing of grain characteristics make it not so easy to observe. So, once again I'd like to reiterate this particular tool will probably be used by veteran film users. I do encourage amateur users to try it out on different images because this is a learning tool in itself.
Alien Exposure used photomicrographs of several film stocks to reproduce them digitaly as accurately as possible, so Exposure could produce a vast assortment of different characteristics of film.