The 2300U2 has a basic style, but does have a very powerful engine inside it, capable of burning data at 200-degrees celcius. And that's pretty darn hot.

The 2300U2 AC Adapter

The 2300U2's AC adapter, is actually a worldwide adapter (you can see it on the specifications page). It accepts anything from 100-240V, running at 50-60hz. This is very convenient for those who travel and who may need to take their desktop unit with them. All a person has to do is go to their favorite electronics store and purchase a basic modular power cord with the appropriate plug on the end for the specific country or region being traveled to.

2300U2 (Front & Back)

The front of the 1300U2 is a standard look to the MO line. The little hole just to the left of center is for the rare situation where the disk is just not ejecting. Simply use a paperclip or something similar which will fit in the hole. The upper right is your MO status indicator. When the drive is receiving power and working properly, a neon blue light will remain on, and then will flash when writing/accessing data. Also notice the front of the 2300U2 is beveled outward by quite a lot (about a half-inch). This keeps the disk protected even if it has been ejected. Sometimes when disks are ejected from other forms of media drives, the disk media itself will stick out, leaving it vulnerable to accidentally catching on something.

The back of Fujitsu DynaMO 2300U2 has a simple layout. From left to right, you have the power switch, air vent (a particularly large breather area due to the type of heat involved for a 2.3GB MO drive's laser), AC adapter jack, and USB2.0 jack. Notice how rugged the back of the 2300U2 is. Very simple, just the basics, and professional.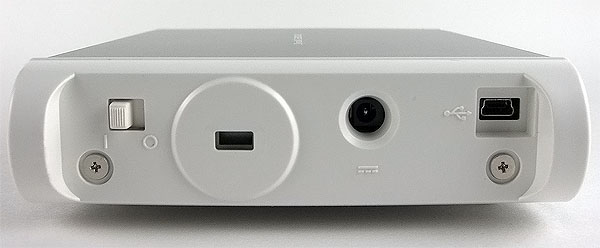 1300U2 (Top & Bottom)
The top of the 2300U2 displays the Fujitsu MO model and the unit is rather basic when compared to Fujitu's other MO models (the 1300U2 Pocket for example).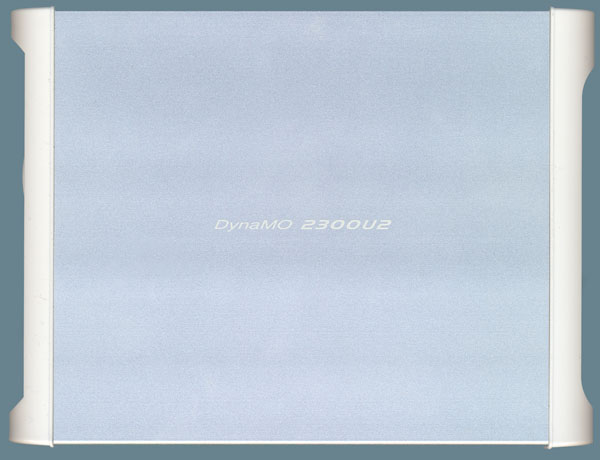 The underside of the 2300U2 you can observe the silicon feet attached. Due note, these are NOT the kinds of silicon feet you will receive in the 2300U2 package. I happened to have some silicon feet myself and just used those. The types Fujitsu ships with the package, are less round at the feet and are more flat.