FiiO X5
Portable High-Res Music Player
Features: High resolution music file playback supporting multiple audio formats, high quality aluminum enclosure, dual MicroSD slots, and more.
Brand: FiiO
Model: X5
Firmware: 2.0
Product Release: March 28, 2014
Purchased: June 19, 2014
Dimensions: 67.6mm x 114mm x 15.6mm
Weight: 195g
MSRP: $ 350.00 USD
Current Price:

Using The X5
Let's get an overall idea of using the X5's menu. Over time, I expect the menu of the X5 to change slightly as FiiO is continually looking at adding features for X5 owners. I've already updated the firmware a few times already, and as of this review, FiiO has released FW 2.20, which solves a few issues with fluid playability and a few more features (such as adding a 3rd option for locking the X5 when you don't want certain buttons pressed during play). Even with firmware updates, the overall display menus below seem to be consistent.
X5 Menu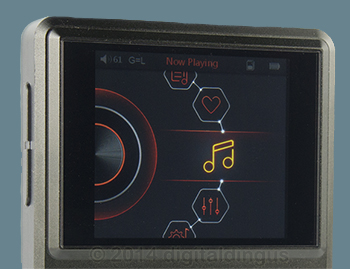 The main menu on the X5 is intuitive. A heart icon represents your favorites, the music note represents what's playing now (if just starting the player and no song is playing, it will display ALL SONGS), three vertical lines with sliders on each line is the equalizer, and you can barely make out the gear icon, which represents the main system settings (there's also a gear icon with a musical note which represents playlists and those settings).
In total, there are 7 main menu icons. Let's take a closer look below at their main function descriptions, along with some images of the icons themselves.
System Settings

Language
Update Media Library
Key-Lock Settings
Screen Timeout
Brightness
Idle Poweroff
Idle Poweroff Time
Sleep
Sleep Timer
USB Mode
About X5
Format
Reset Factory Defaults

Play Settings

Play Mode
Resume Mode
Gapless Playback
Max Volume
Power-On Volume
Fixed Volume Setting
Gain
Balance

Now Playing

If you selected a song,
the song will be displayed.
If no song was selected,
you will see ALL SONGS
on the TF card.

Equalizer

Off
Rock
Classical
Jazz
Pop
Dance
Vocal
Blues
Metal
Custom

Favorites

Displays your favorite songs

Play By Category

All Songs
Album
Artist
Genre
Playlists

Browse Files

TF Card 1
TF Card 2
OTG
Viewing The Settings Within The Menu Icons
Let's take a view below at a few examples of what the settings and the displays look like after you would select a particular menu selection.
Play Settings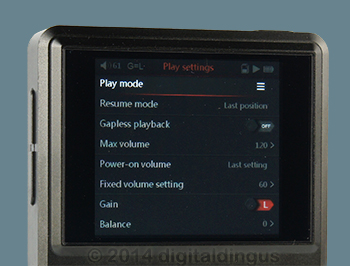 When selecting the Play Settings icon, you'll discover what's on the left. So far, there are eight settings within this menu, which give the user adjustments over volume, balance, gain, and a few others.
Equalizer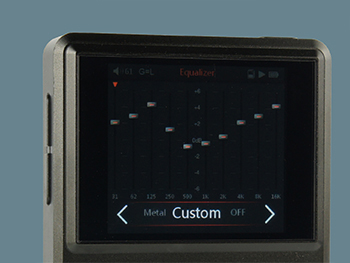 When selecting the Equalizer Settings icon, you will also discover what's on the left. Unfortunately, there is only one customizable EQ setting with 8 pre-defined settings. You might use some of these settings, but if you're the typical person who would buy such a device as the X5, you'll be immediately adjusting your own music to your own listening preferences.
Overall Impressions
The menu displays of the X5 are very simple, but yet have a lot of customization to them. The background color (dark gray) makes it viewable in both daylight and dark environments. Additionally, many selections which are switched "On", are highlighted in red so it's very easy to notice whether or not you selected a rather important setting.