FiiO X5
Portable High-Res Music Player
Features: High resolution music file playback supporting multiple audio formats, high quality aluminum enclosure, dual MicroSD slots, and more.
Brand: FiiO
Model: X5
Firmware: 2.0
Product Release: March 28, 2014
Purchased: June 19, 2014
Dimensions: 67.6mm x 114mm x 15.6mm
Weight: 195g
MSRP: $ 350.00 USD
Current Price:

Using The X5
Let's get an overall idea of using the X5. It might not be too far from being familiar to a lot of music player users — especially the iPeople out there, as the rotating wheel (which looks like a turntable I have to admit) is your main control point. The center brushed aluminum button is for confirmation of an operation (i.e., selecting a track, confirming setting changes in the X5's menu, etc.). The 4 buttons on the outside of the wheel are for navigation within menus and songs and do a pretty good job at what they were designed for. When listening to music at night and simply going by feel of the player, these buttons are very easy to distinguish.
X5 Operation
Let's take a closer look below at using the controls of the X5 and what they do (slightly redundant from above). There are basically 8 main controls you will use, making it rather easy to operate and navigate. 6 controls are on the face of the X5 itself, and the other 2 are on the upper-side left of the X5, which are the volume buttons.
As you can see below, these two volume buttons barely stick out and are the Volume + and Volume - buttons. The increments have been conveniently (and graciously I might add) engineered to be subtle, which have a range of 0 to 120 (in steps of 1).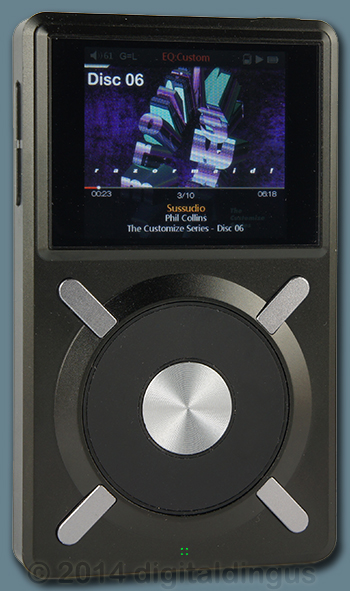 On the left, you can see the 2.4" 4000x360 IPS screen, which is capable of displaying 262,000 colors. Album covers can be displayed where tagged, and about 25% of it is shaded to view the song information. This display may change over time, as FiiO is modifying what can be displayer from consumer requests.
The top two buttons deal with the menu of the X5. The left button, when pressed, goes to the main menu, and right button is used to go "back" when navigating. You can do this when a song is playing.
The center brushed aluminum button is for playing/pausing a track, and used for confirmation of a selection. The surrounding 360º rubber wheel navigates as quickly or slowly as you turn it.
The lower-left button is used for Previous, Previous Song, and Rewind, while the lower-right button is Next, Next Song, and Fast Foward.
As you can see above, we have a green display at the bottom center of the X5. This indicates the X5 is charged and ready to use. It would glow red if it was charging, and not ready to use. Under normal operation when the X5 is NOT connected via Micro-USB to a PC or other device which can deliver the required electrical current for charging (5V 1.5A), you would not see this display. The X5 image above has been enhanced to show where the green and red LED display would be if you had the X5 connected to a charging source.