FiiO X5
Portable High-Res Music Player
Features: High resolution music file playback supporting multiple audio formats, high quality aluminum enclosure, dual MicroSD slots, and more.
Brand: FiiO
Model: X5
Firmware: 2.0
Product Release: March 28, 2014
Purchased: June 19, 2014
Dimensions: 67.6mm x 114mm x 15.6mm
Weight: 195g
MSRP: $ 350.00 USD
Current Price:

The X5: A Closer Look
Let's take a closer look at the X5 below. You can instantly feel the superb quality by just holding the X5 in your hands. I'm referring to solid pieces of, in FiiO's words, "CNC aluminum unibody enclosure plastic shell, button trim panel with drawing aluminium alloy, button with metal CD grain." The translation on their website is probably a little off, but you get the idea. This is not some ordinary plastic shell with cheap internal electronics. This is a solid 7oz piece of audio electronics.
You're probably wondering what that red case is in the background. It's the FiiO HS7 carrying case, which conveniently holds FiiO products. In this case (literally), the X5 fits nice and snug, along with a pair of earphones. And speaking of earphones...you might be wondering what those are as well. Pictured above are the Sennheiser OCX 685i Adidas Sports In-Ear Headphones. Surprisingly affordable for what they sound like, the X5 makes these earphones seem like those costing several times more.
Volume + and Volume -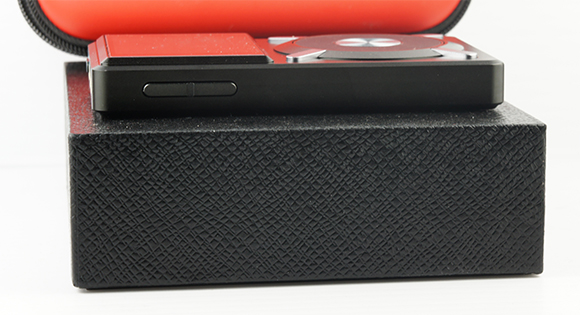 FiiO X5: Volume Controls
What you see above is the VOLUME area, where you can adjust the volume from 0 to 120. This is probably the best volume control I've encountered on any portable music device (and even some home theater systems). Why? Well, each person has their own volume tolerance. A control that has a sound dynamic of 0-30 is just not going to cut it. Either that volume will be too low...or too loud.
Power & Outputs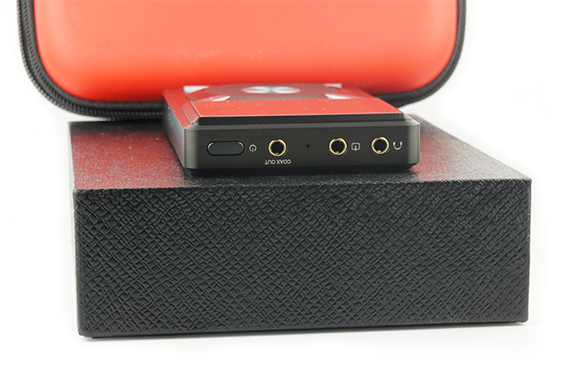 FiiO X5: Power Button & Audio Outputs
Above you can see the POWER button, which also functions as a lock button. There are three separate outputs provided by FiiO, which really makes a difference and is very convenient. COAX OUT, LINE OUT, and HEADPHONES OUT each have their own purpose.
The COAX OUT jack is for those devices which accept a Coaxial input (using this will mute the HEADPHONES OUT jack).
The LINE OUT jack is to connect to other devices which accept an audio signal that isn't digital, such as the FiiO E12 Mont Blanc Portable Headphone Amplifier. If you have some high-end earphones or headphones, this is the portable amplifier to get.
Finally, the HEADPHONES OUT jack is for those who own a good set of earphones, but do not necessarily need an additional amplifier to get the required power. In order to figure out if you need an additional amp for your headphones, it's wise to look at the specifications of the earphones you have and compare them with the X5.
Dual MicroSD Slots & Micro USB Port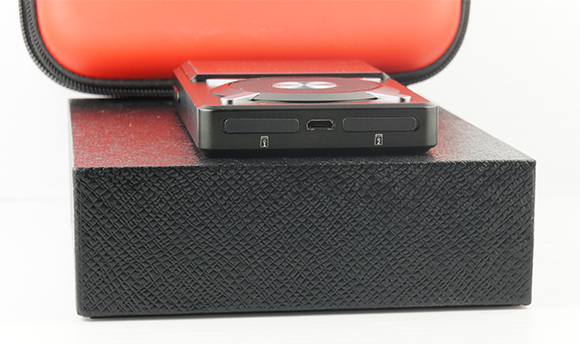 FiiO X5: TF Slots & Micro USB 2.0 Data/Charging Port
The most welcome feature of the X5, is its dual MicroSD slots (or "TF" as FiiO refers to them). Reading some of the comments on the web, some prefer a hard plastic cover for the slots, versus the rubber slots. I prefer the rubber slots. Plastic tends to lose its shape over a very quick period of time, and also cracks much easier.
With two MicroSD slots, you have the option of purchasing lesser-expensive memory capacities, and doubling-up on them. As an example, you can get a SanDisk 64GB Ultra MicroSD card, for around $35. This is much more practical than buying a 128GB MicroSD card which is currently selling for around $130. Simply buy two 64GB cards for about $70.
But price alone is not the only important feature of dual MicroSD slots. Being able to switch from one slot to the other is a nice convenience, as I might want a particular collection of albums on one card, but not the other. For those of us who have an extensive music collection, it is easily possible to have one 64GB card for Dance, Classical, New Age, and so on. And since the X5 is catered for those listeners who want the best, high resolution albums take up a lot of space, and having the option to switch from standard CD quality on one card to a card that has high resolution audio files, is ideal.
Beware Of Fake Memory Cards
When it comes to memory cards, the only way to verify a memory card's capacity, is finding out when you received the product and format it — only to discover your $10 64GB card you got on eBay has 4GB or less.
Here's a tip: Don't buy memory cards on auction sites unless they are marketed by a major company who can guarantee their product, and has been around for long time. I've read several stories about eBay sellers who magically disappear after selling their merchandise, and who also are not based in the US, but a foreign country, so there is no way to get your money back.
Shop on Amazon
, but also make sure the product is being fulfilled by Amazon itself. Of course you can do business with third-party sellers, and I do this myself, but please make sure you have read comments about their store, the products they sell, how many products they sell, and even email them ahead of time with any questions.
Finally, use a little common sense. If a product is selling elsewhere for around $40, and somebody is offering it for only 25% of that cost...pause for a moment, and ask yourself if you're making a wise consumer online purchase. Online purchasing is very convenient, but it's also the most susceptible to impulsive buyers.
Use Caution With The Latest Memory Cards
This probably sounds a little odd, but avoid another impulse shopping moment by immediately purchasing the latest and highest storage capacity memory card.
Why?
The major reason is manufacturers need time to update their equipment so it will accept the latest memory cards without hiccups. With so many products being released so quickly — and most certainly available to purchase so quickly — there needs to be a space of time to enable the engineers of your awesome digital device to be updated via firmware.
Another reason when using a little caution when buying the latest memory cards is...you'll be paying about $1 per gigabyte or more if you want the latest on the market.
A third reason when using a little caution, is the latest memory cards aren't necessarily proven to be reliable. This isn't the fault of the manufacturer per se, but do YOU personally want to be the Digital Guinea Pig with stories of failing devices and loss of your date? Wouldn't you rather read about somebody else having those issues and waiting a little while for the usual bugs to be taken out of the product?