ColorEdge CE240W
Display Panel: 24.1" TFT color LCD panel
Resolution: 1920 x 1200 Native
Contrast Ratio: 1000:1
Brightness (Typical): 450 cd/m2
Aspect Ratio: 16:10
Viewing Angle (H/V): 178/178
Dimensions: 22.3" (W) x 14.1" - 18.9" (H) x 9.1" (D)
Video Inputs: Digital DVI-I 29-pin x 2
USB2.0 Ports: 2 "downstream", 1 "upstream"
Warranty: Five Year Covering Parts and Labor, 3 Years on Backlight
MSRP: $1,699.00 | Check Price / Purchase

For those "Tubers" who are purchasing an LCD monitor for the first time, you're in for a surprise. Receiving the CE240W box having the dimensions of 26" (W) x 13" (D) x 23" (H) and weighing about 27lbs was nice compared to the CRT alternative. My Eizo F980 box has the dimensions of 27" (W) x 27" (D) x 30" (H) and weighs, with monitor, over 85lbs. What follows is what's in the box, and a few complaints.

Only The Essentials

Eizo sends only the essentials with their monitors but I noticed in this case, they include a VGA to DVI-I cable. This is not some VGA adapter you put on a digital cable. This is a solid analog to digital cable. Keep this close to your chest because it will make life so much easier when in a situation where you have to switch between digital and analog signals. Screwing and unscrewing those very irritating DVI-Analog adapters is quite frustrating, and I think they were made so only people with fingers made out of wire could appreciate them.

Packaging: Good, Could Be Better

There is a considerable amount of space in front and in the back of the LCD monitor in the box. I would prefer more foam around these vulnerable areas, making a more firm fit and less possibility of being jacked around from your favorite shipping employee who hasn't had a coffee break. Let's face it, when you order your monitor, it's already been shipped from Eizo's warehouse to your online eTailer store. Then, the online store has to ship it from their warehouse to you. But that's not all. The shipping company takes it from their center and has to deliver it to your door. It still doesn't stop there, because more than likely you will not be home, so figure on another trip on the shipper's truck back to the center, and tossed around for next day's shipment attempt. So, while the packaging is good, it could be better.

I'd also like to mention another reason for a well-built shipping box with a lot of padding. If you ever have problems with the monitor (unlikely) and/or want to have the monitor sent back to Eizo for any kind repair work that is in warranty, you will need to ship the monitor back to Eizo. While the box Eizo ships is sufficient, it could be better.

In The Box

Here's what I found in the box (and you should too):
LCD Monitor
Power Cord
Analog Signal Cable (FD-C16)
Digital Signal Cable (FD-C39)
Eizo USB Cable (MD-C93)
Eizo LCD Utility Disk CD-ROM
Electronic User's Manual (on the Utility CD-ROM)
Setup Manual
Limited Warranty
Adjustment Certificate
Mounting Screws (6 pcs; M4 x 12 mm)
Where's The Cleaning Cloth?
I received a really nice cleaning cloth with my F980 but Eizo didn't include any sort of cleaning cloth with the CE240W. Bummer. I hope they re-think this and start including a cloth with their monitors.
Heavy-Duty Cables
Thumbs-up to Eizo for making heavy-duty DVI cables. These are high-quality cables and by simply picking them up you realize you have something made to a higher spec.
The Electronic User Manual: Needs Improvement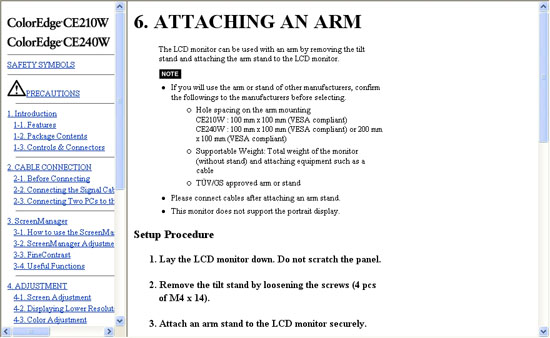 I downloaded the Chinese Manual and the format looks great in PDF. The English manual is not available in PDF format (why?), and is created with a basic HTML layout, with poorly made menu tables. I remember when I received a complete paper manual with my F980, and I highly recommend to Eizo (when they read this) they provide paper manuals for those who spend $1500 on a monitor. They don't have to do it for all monitors, but for a CE240W selling for anywhere between $1500 and $1800, I expect a little splurging. Paper is still used these days, and if your computer just so happens to breakdown (due to a video-related problem for example), thereby NOT providing access to your CD-ROM, your nifty electronic manual is useless at that point. If you had a paper manual, you could be thumbing through it in seconds. Yes, if you had another computer handy you could access the manual, but seriously, do you really want to load the manual on your kid's computer, run downstairs and double-check your cable settings, then run back upstairs to your kid's computer. And so on. Nah, I didn't think so.

Setup Manual: Very Helpful

The setup manual is a one-sheet piece of paper which explains the basics of setting up your CE240W. I found this to be very useful and comes in handy when you don't want to look up the procedures on an electronic manual CD-ROM. This COULD take the place of a paper manual, but not completely.

Adjustment Certificate: Very Informative And Appreciated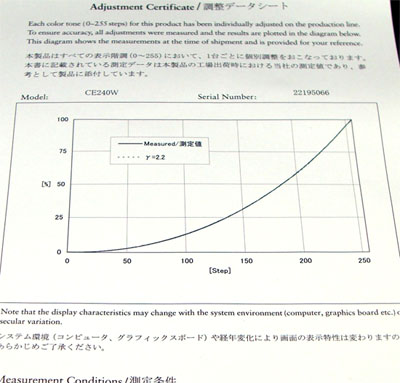 Kudos to Eizo for including a personalized calibrated printout sheet for the monitor you are purchasing. It's not a generalized sheet, it was specifically printed out during the manufacturing process exclusively for your monitor. I like that. It means Eizo is giving attention to every single CE240W crossing the manufacturing line. See if you can find that amount of attention in a Dell product or other brands where quantity is the major concern.