ColorEdge CE240W
Display Panel: 24.1" TFT color LCD panel
Resolution: 1920 x 1200 Native
Contrast Ratio: 1000:1
Brightness (Typical): 450 cd/m2
Aspect Ratio: 16:10
Viewing Angle (H/V): 178/178
Dimensions: 22.3" (W) x 14.1" - 18.9" (H) x 9.1" (D)
Video Inputs: Digital DVI-I 29-pin x 2
USB2.0 Ports: 2 "downstream", 1 "upstream"
Warranty: Five Year Covering Parts and Labor, 3 Years on Backlight
MSRP: $1,699.00 | Check Price / Purchase

Let's take a closer look at the Eizo CE240W.

DVI-I And Upstream Port

Shown below are the two DVI-I ports and what is referred to as an Upstream Port, which communicates from the LCD monitor to the computer. Downstream Ports communicate from an external device to the LCD monitor.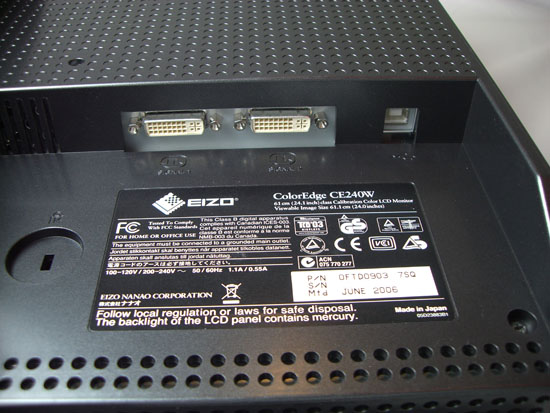 You can also see the area to attach a Kensington Lock, which is one of the more popular and used locking devices in the portable computer world.

USB2.0 Downstream Ports

Two USB2.0 ports are seen on the left side of the Eizo CE240W. This isn't the ideal location for USB ports and would have preferred a different layout, as well as more ports. On my Eizo F980 CRT, I had four USB ports in the back, and one port in the front for instant access.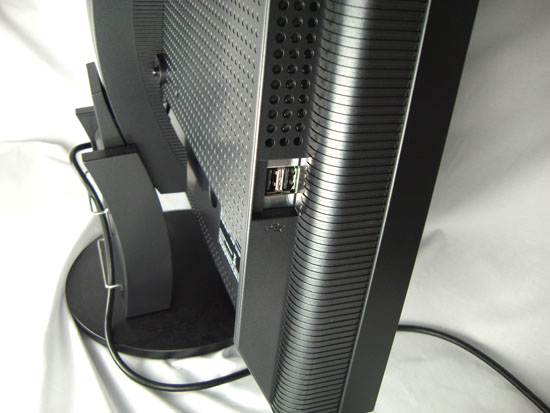 The Electrostatic Buttons
Electrostatic buttons are great--as long as you can see them. Otherwise, you're feeling around in the dark, and more than likely, you will touch a setting you didn't want to be changed. Unfortunately, Eizo didn't correct this problem by simply adding a subtle backlight, allowing for low-light environments.

On a better note, the electrostatic surface is smooth, allowing for easy cleanup after a month or so of use, and there are no places where dirt can wedge itself into the typical button crevasses found on other monitors.

The ArcSwing

The ArcSwing attachment (included already assembled to the monitor) is one of Eizo's greatest accomplisments. In fact, Eizo has pretty much been involved with the dynamics of monitor adjustment ever since they began to offer monitors. I remember using the F980, and how fluid-like the movement of it was. Making sure a 75lb CRT moves freely on its base is no easy task. The same with the CE240W. A 24" Widescreen monitor is rather large, and while it is about one-third the weight of a CRT, moving it can be just as difficult.
The ArcSwing allows movement to the extent I have never seen on other LCD monitors--even the high-end ones. I was surprised to discover near 360-degree movement on the horizontal axis, while still allowing for extreme adjustments on the vertical axis. The ArcSwing's name comes from the shape of the stand. Typical LCD monitor stands have an arm that raises up, and raises down. There is no movement at all along the horizonatl axis. Because of this, the monitor's display can become troublesome for viewing due to the limited display possibilities.
With Eizo's ArcSwing, the monitor is pivoting on a non-linear axis--it is traveling on both horizontal and vertical axis points. Because of this, the monitor can be as high as 4" off the desktop, or as close as 1/10" (or even closer). The latter position, allows for the monitor to be angled slightly backward, resembling a podium or a book stand.
In addition to the ArcSwing design, I'd like to comment about the overall stand design as well. While roaming through the LCD monitor aisles at your favorite electronic stores, I've noticed some very poor designs for the stability of the monitor itself. How on earth some stands are created and allowed to go to market with a monitor is beyond my psychic abilities. What I can say in Eizo's case, is they do a great job in making sure your monitor is stable and will not wobble around. The bottom part of the stand is solid metal, which gives your monitor a firm foundation and also allows for monitor adjustments without the stand moving along with it.
Cable Organization
The way Eizo expects your DVI, USB, and Power cables to be organized is not as good as I would have prefered. A better solution would have the cables behind a plastic case, and not kept confined by a wire restraint which can bend under cable pressure and possible movement.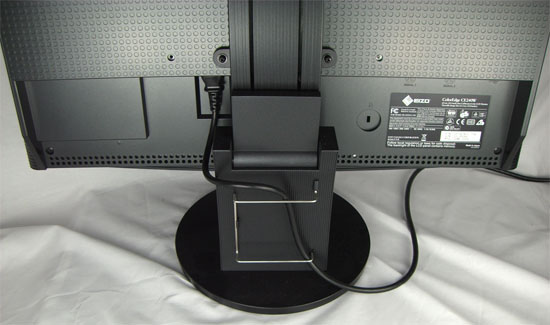 On the left, you can see where the power cable is connected to the monitor. There's a lot of room on this side, and Eizo wouldn't have needed to twist my arm to install component inputs for an external DVD player. A few more USB ports on this side would have been nice as well.