Verilux Rise & Shine Deluxe
8 Pre-programmed nature sounds: Birds, Harbor, Town, Brook, Surf, Forest, Rain, Wind
Other Features: Alarm Clock, AM/FM Radio, awake to increasing lamp intensity, radio, nature sounds in various combinations.
Weight: 3.96 lbs
Warranty: 3-year warranty
Official Website: VeriluxStore.com
MSRP: $149.95
Pros
Full Spectrum lighting
8 nature sounds
AM/FM Radio
Alarm clock
Large LCD display
Pleasant and modern design
Buttons are quick to respond to the touch
Intuitively placed buttons and knobs
Nature sounds are of good quality
Battery backup (4-AA batteries located underneath lamp stand)
AA battery backup design and NOT 9V--kudos to Verilux
Speaker on the lamp is above average and provides a somewhat "hearty" sound
Pillow speaker attachment sounds great through the pillow
Sturdy lamp housing sits firm on a foundation
Above average packaging to ensure product integrity
3-year limited warranty
Cons
Observations
AC cord is somewhat short, which might restrict placement--however, since the AC cord plugs into a modular AC/DC converter, you can purchase a longer cord at a local hardware store
Suggestions
Accept flash cards (SD preferably) for a user to download their own sounds--on the Rise & Shine Deluxe, you would select a 9th sound option which would be "Custom" or something with a similar nomenclature.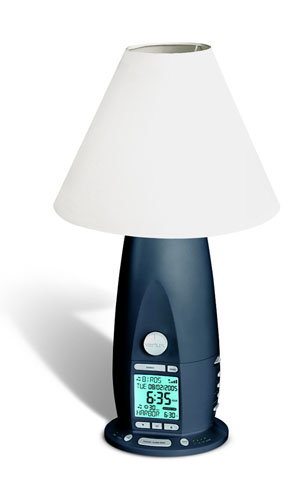 The Verilux Rise & Shine Deluxe is an intelligently designed full spectrum lamp, built to give the user an exciting experience. Using the RSD for a few weeks, I actually noticed an improvement in how I woke up in the morning and going to sleep at night. While this improvement was small for me personally, I suspect for others, a much larger improvement in awaking and sleeping could be attained. Even though a small improvement, I did appreciate the Rise & Shine performance and I would imagine if I used the product for a longer period of time, I may even see a more substantial improvement in the way I sleep.

The overall design of the lamp is pleasing to the eyes. Nice curves are certainly a part of the Rise & Shine's attractive stance when positioned in any room, and the buttons respond to the touch immediately. The shade of the lamp also appears to be well-made. I almost missed the battery backup feature of the Rise & Shine. If you look underneath the base of the RSD, you will discover a place to insert 4-AA batteries in case the power goes out. Verilux pretty much thought of everything to keep this lamp in your possession for a long time and I appreciate such a feature. I also appreciate the backup battery is NOT 9 volt. Hardly any 9V batteries are commonly used these days which means you really can't have a fresh supply of them around the house, ready for use when needed. AA batteries are MUCH more common, and Verilux was keen on this. Kudos.

One small note on the graphite version of the Rise & Shine Deluxe. As seen above, you can really notice the graphite color but in actual use, the lamp will appear more dark in color. In fact, I'd say it was borderline black--you can see the DigitalDingus images which prove as much. So, for those who are color coordinating, keep this in mind. Under very strong lighting conditions (we're talking studio-bright here), you would see the graphite color more pronounced as the above obtained press image illustrates.

HIGHLY RECOMMENDED PLUS

The Rise & Shine might be considered a little expensive, but after using and observing how the RSD performs, the price is fair. A person could easily spend $100 on a lamp alone without any features other than an ON/OFF switch for a Full Spectrum lamp of this quality, so being just under $150 for the added alarm clock, large LCD display, nature sounds, and a variety of awake/sleep combinations make the Rise & Shine Deluxe a great addition to any home or apartment.

The Verilux Rise & Shine Deluxe is much more than just a lamp--it is a complete audible & visual sensory experience.