Creating a gallery is pretty simple, and let's look at what's involved in a basic setup.

Creating A Gallery

There are two parts of Image Armada: Image Armada Viewer and the Image Armada Builder. In this case we want to build our gallery, so we choose the Image Armada Builder from the Windows Start Menu or the desktop shortcuts. After this we have 3 options: Open Last Gallery, Open A Gallery Configuration, and Open A Gallery Template. We choose the last option since we're starting from scratch, and there are two default templates we can choose from: Demonstration - The Lounge - 1 and Demonstration - The Tombs - 1. Other templates are available from the Tangent3D website.

Add Images To Gallery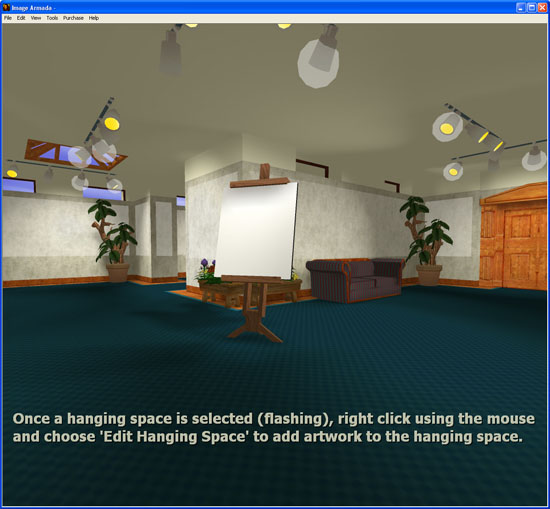 It's very simple to add images once you're in the builder. The areas flashing are where you can add images. Just click on a space where you want it to be, and the next step is choosing the image.

Choosing An Image For The Gallery

Below is an animated GIF, representing the stages in adding an image: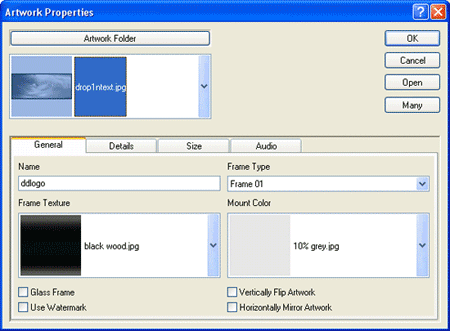 Select the image from a designated folder on your computer
Resize the image if necessary
View image after adding it
Open Image Armada Viewer to see what it will look like
And that's pretty much it. There are a few other steps which can be taken if you want to customize the gallery, but as you can see, it's fairly simple to add an image into the program.

Display Your Internet Address & Email (Professional Version)

Among the many addition features of the pro version, Image Armada can display your website address and email information when you walk up to an image.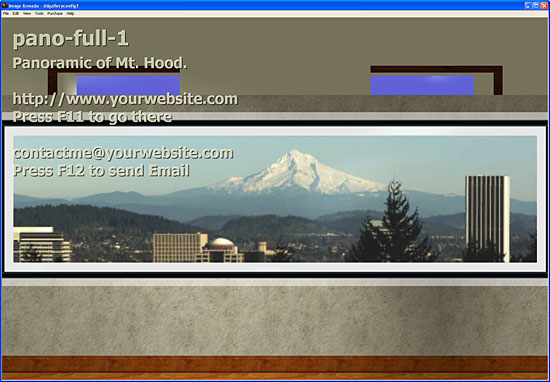 Image Armada Exhibitions
Tangent3D occasionally showcases their Exhibitions from other artists who have used the software. This is a really good way to learn the potential of Image Armada.