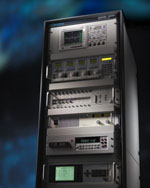 PC Power & Cooling include a 3-page Certified Test Report of their 850 series and 1KW series power supplies. This is much more accurate than someone taking a $20 multimeter from Radio Shack and determining the voltages. While it's not necessarily inappropriate to use an inexpensive meter on an economy PSU, for more professional power supplies, a much more controlled environment and professional machine is the better choice. PC Power & Cooling use a $100,000 "Multimeter": the Chroma 8000 ATE. The Chroma 8000 will certainly find any problems with your products, and I'm not surprised other PSU manufacturers do not have this feature for their consumers who buy the "higher-end" PSUs.

The Certified Test Report

The CTR is made up of 23 steps in 23 sequences of testing. The following is the breakdown of what exactly is currently tested for the CTR you receive with either your 850, 1KW, or 1KW Quad Sli:
TTL & Relay Setup
Turn On & Sequence Test
ATX Voltage Setpoint
ATX Efficiency
ATX Peak Power
ATX Ripple Noise
ATX Power Good
ATX Power Factor
ATX Remote Enable
ATX Line Regulation
ATX Load Regulation
ATX Current Limit (5V)
TTL & Relay Setup
ATX Current Limit (12V1)
TTL & Relay Setup
ATX Current Limit (12V2)
TTL & Relay Setup
ATX Current Limit (12V3)
TTL & Relay Setup
ATX Current Limit (3.3V)
TTL & Relay Setup
Internal Setup
ATX Hold Up
PC Power & Cooling doesn't have to provide you with such a descriptive report. But they do. After all, you've forked out a pretty good sum of money, and it's nice to know a company acknowledges this and reinforces their high-end products with evidence to support the justification.