Maha MH-C9000 WizardOne
Charge Time: Variable
Charge Current: Variable
Discharge Current: Variable
Battery Acceptance: AA or AAA
Dimensions: 4.25" (W) x 1.5" (H) x 6.5" (D)
Weight: 305g (~11oz) (excluding AC adapter)
Warranty: Three-Year Limited Warranty
MSRP: $69.95 | Click For Best Price
Recommended Merchant: Thomas Distributing

Let's take a closer look at the MH-C9000 WizardOne. There are a total of five major battery modes which cover a wide variety of charging, refreshing, and discharging options. While there are only four buttons on the WizardOne, there are multiple menus which will require one or more of the four buttons to be pressed. The MH-C9000 is a complex but yet simple charger and analyzer which can really exploit the power and potential of any battery used with it. One of the many features of the MH-C9000 is the BIG and BRIGHT LCD display (as shown below). If you have a dark room, this will promptly light it up.

MH-C9000: Front 3/4 View

Notice the design is made so your batteries obtain the maximum amount of ventilation.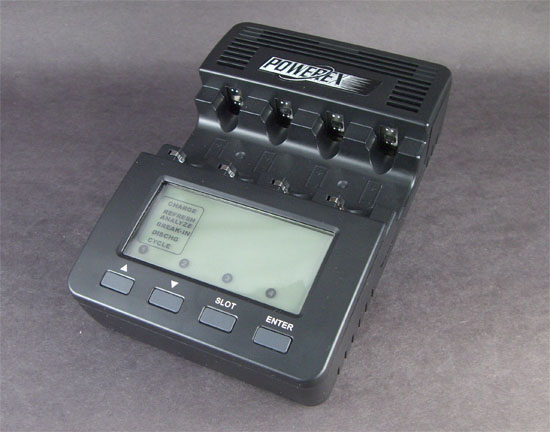 MH-C9000: Back 3/4 View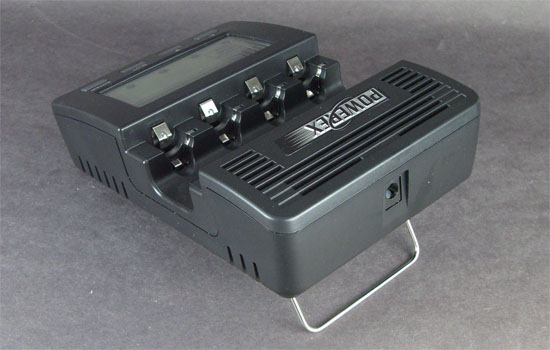 MH-C9000 LCD Display
From the image taken below, you can view the five distinct modes available to you on the MH-C9000 charger. Let's take an overview of what each mode does:
Charge Mode: Recharges the battery at the selected mAh rate; should be used only for batteries which are known to be in good condition; requires the least amount of time for charging
Refresh & Analyze Mode:Recharges, rests for one hour, discharges, rest, and a final recharge; Useful for determining battery capacity but is not recommended for batteries stored over a significant amount of time (3 months or more); Maha recommends this mode for every 10 cycles of charging/discharging
Break-In Mode (IEC Standard):Applies a 16-hour 0.1C charge, one hour rest, 0.2C discharge, rest, 16-hour 0.1C recharge; this is the longest mode to complete which takes anywhere from 39 to 48-hours; this mode is the IEC standard for determining battery capacity
Discharge Mode: Discharges battery at selected mAh rate; useful for determining the amount of charge stored in the battery
Cycle Mode: charge-discharge battery cycle for a programmable number of times
Note: 0.1C = 0.1 x Battery capacity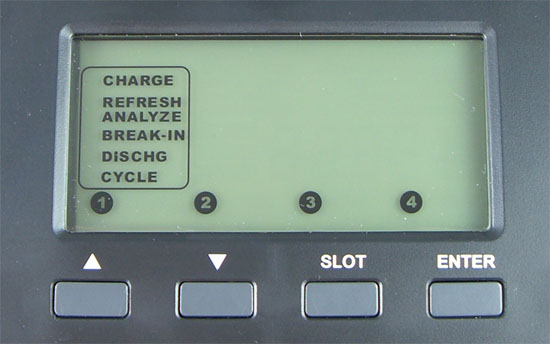 As you can see above, only four buttons occupy the entire MH-C9000 outer casing. These buttons are used to navigate within the simple prompts displayed when choosing the charging modes. The UP and DOWN keys on the left of the WizardOne are for increasing and decreasing the values of battery capacity and charge current. The SLOT button is for selecting which slot you want information from and/or need to enter in info for charging and discharging. And speaking of entering, the ENTER button does what it says. Simply press this button when you've selecting your particular choice and press enter. The information is then stored into the respective slot.

MH-C9000: Side View