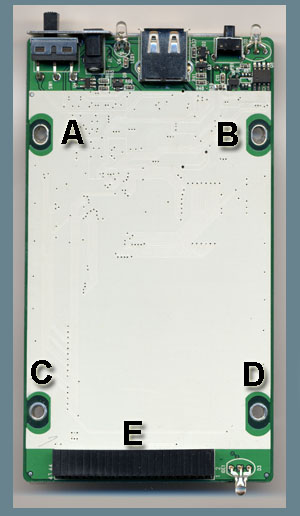 Now, let's begin the procedure for installing a 2.5" HDD. There are a few things I need to mention so that you're installation is not frustrating. These recommendations are from my experience only, and you may not encounter these experiences at all. However, I decided to include as much helpful info as possible to make your installation go much more easily and smoothly than if you were not prepared.

Descriptions Of The Support Plate

A) Adjustable Hole for Screw #1

B) Adjustable Hole for Screw #2

C) Hole for Screw #3

D) Hole for Screw #4

E) 44-pin IDC receptacle for 2.5" HDD

The 4 Holes

Before attaching the 2.5" drive to your 250OTG, I recommend using the same small screwdriver you previously had to use, and push it through the 4 holes, each time turning the screwdriver clockwise and counter-clockwise, in order to expand the rubber cushions that are just underneath each hole. If your screwdriver is much smaller than the hole, or you have one that is much bigger and won't fit, find a screwdriver which will fit through the holes. You can see the "rubber cushion" below in a highly-magnified image: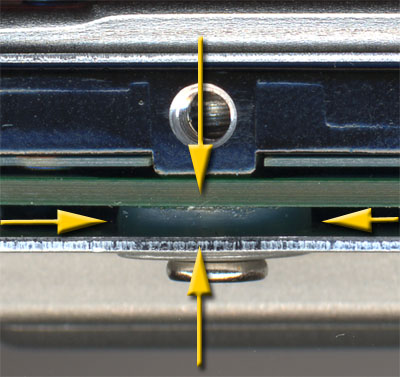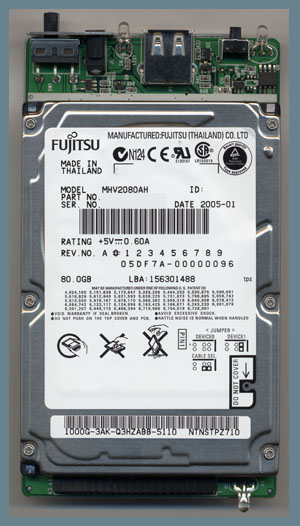 Attaching The 2.5" HDD
Now here is where things will get tricky. The holes must line up as close to perfect as possible for the screws to go through a) the Metal Plate, b) the Rubber Cushion, c) the Circuit Board, and finally d) the Hard Drive itself. Notice there are two slightly-oval holes at the "A" and "B" areas. This will allow a small amount of room for adjustment, because when you attach the drive to the plate, there will be a certain amount of "play" to position the drive.
Be Sure The Pins Are Lined Up
Be sure the pins on your drive are properly lined up with the receptacle. In the case of the Fujitsu MHV2080AH, there are extra pins, and there could be extra pins on other 2.5" drives, so be aware of this. Carefully slide the drive into the receptacle, making sure the pins are lined up. Gently give the drive a little nudge, just to be sure it's in there all the way. If it is, then you should not have a problem screwing in the two screws ("C" and "D" screw slots). If the screws can't seem to catch and screw in, just work the screw around in the hole a little. If you still can't get the screws in, then more than likely the drive is not pushed in far enough. Also, to verify you do have the holes lined up for screwing, use your small screwdriver and insert the screwdriver into the holes where the screws would go. If the screwdriver goes all the way through to the drive, then it's just a matter of working the screws in the holes to make them take hold.