The GSA-5169D is one of the Super-Multi media drives available from LG Electronics. The GSA-5169D is especially unique in that it has direct audio and video inputs on the back of the unit itself. LG also boasts of the GSA-5169D: "One-Touch" DVD recording. This is particularly rare to find on such a device because much of the DVD creation is handled by the respective DVD recording software application.

A New Evolution In Media Drives?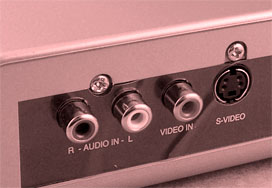 LG has taken quite a bold step in the standard design of a media drive. Should video jacks be offered on the back of a media drive? Well, as we will see, there are benefits. Looking at the A/V jacks on the back of the GSA-5169D, you might be inclined to think it has direct video input to the DVD as it burns. Well, this isn't the case, but it is a convenience which enables a user to not be tied to their home computer, but especially, not tied to an additional external video capture device.
Another convenience of having built-in video capture capability, is avoiding an internal video capture card. Just take the GSA-5169D along with you and it's a self-contained capture machine, containing all the necessary hardware features. Install One-Touch DVD on your laptop, and it's instantly a video capture device.
GSA-5169D Features
Let's take a look at some of the major features of the GSA-5169D:
"One-Touch" AV Capture
Audio and Video Inputs
16x DVD-R or DVD+R write speed
48x CD-R write speed
DVD-R DL @ 4x, DVD+R @ 2.4x, 4x, 6x, 8x
DVD-RAM Read & Write capability
2MB Buffer with SuperLink Buffer Underrun Error Protection
MSRP: $169.99
The GSA-5169D: Super-Multi Indeed
The GSA-5169D supports a vast amount of media formats, including DVD-RAM (more reliable than DVD RW media but more expensive too) read and write (5x write speed as a matter of fact). Another major bonus is Booktype and BitSetting are offered for DVD+ media. BitSetting is used to create a DVD which is "seen" like a normal DVD in almost any DVD player currently on available today.
The GSA-5169D is a high-performance drive, offering the latest read and write speeds for those who love to put their finger to the mouse pedal and burn as fast as absolutely possible.
A Lifesaver For VHS Collections
Quite possibly, the GSA-5169D could be a VHS owner's dream come true. We all know someone who has a large amount of VHS tapes just sitting a box and slowly deteriorating, because the owner is unsure of how to proceed with transferring such a large amount of video material to the digital domain.
The GSA-5169D could be the solution.