Installation of The GSA-5169D is very easy as long as you...

INSTALL THE SOFTWARE FIRST.

One-Touch DVD by honestech

A company which might be new to the average consumer but is well-known to manufacturers, is honestech. honestech created the One-Touch DVD software for LG Electronics. This software is actually VHS to DVD 2.0, which is currently sold by honestech.

Installation of the 58MB One Touch DVD is somewhat irritating. It takes about a minute to two minutes before the application begins and lets you know it is beginning the installation. This can be very confusing because you'll inadvertently be clicking on the program a few more times to see what's going on. Well, this just adds to the problem. Even when installing on a Xeon 3.6GHz (running at 4.07GHz) with 2GB of DDR-400 memory, I experienced the same problem (after installing on a dual-processor Pentium III 1GHz system with 768MB PC133 (overclocked to a FSB of 142MHz), so I tend to think it is not the computer system being used, but more of an application initializing problem.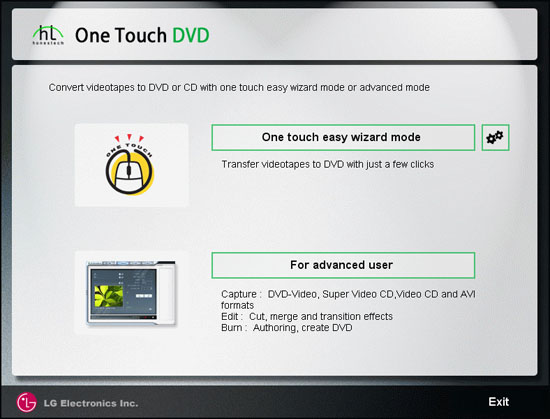 After the One Touch DVD is installed, problems are non-existent, so this is a good thing.

Easy Or Advanced

One Touch offers two modes of video recording: Easy or Advanced.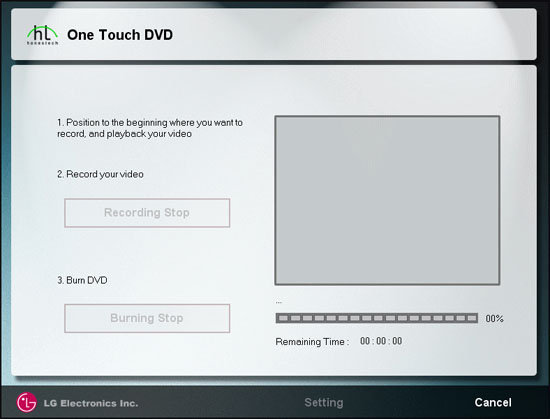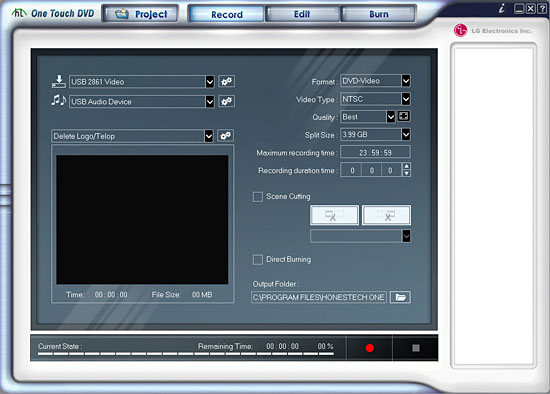 Cyberlink's DVD Solution Software
Included with the GSA-5169D is the 524MB LG DVD Writer Solution CD which is presumably created by CyberLink due to the upper-left information identification.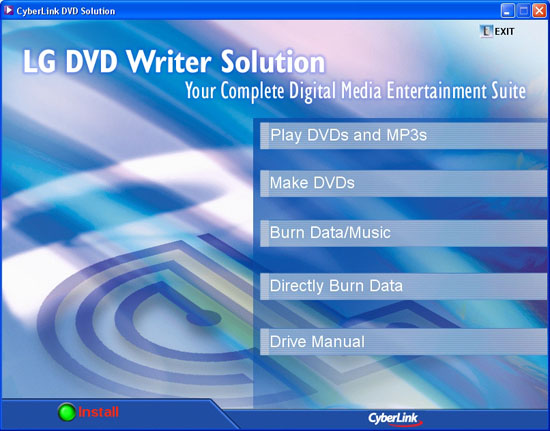 The DVD Writer Solution CD is a nice collection of additional tools which allow the user to perform just about any kind of media creation. Whether you want to create MP3 files, burn data directly to the CD/DVD via "Drag-N-Drop", create a DVD or photo disc to be played on your home or PC DVD player, or just an overall good burning program such as Nero Express, the LG DVD Writer Solution CD is a good source of software applications to round out the GSA-5169D package in case you do not have any tools yourself.

The following is a list of the major programs and files available on the LG DVD Writer Solution CD:
PowerDVD 5
PowerProducer Gold
Nero Express 6
In CD 4
Acrobat Reader 5.0.5
GSA-5169D User's Manual
DirectX 9
Some of these programs have rather old versions, so you will be upgrading your applications or may already have the latest version (Adobe Acrobat Reader 5.0.5 for example).

GSA-5169D Recognized By Windows XP Pro (SP2)Device Manager

Using XP Pro SP2, the following information comes up after installing the software: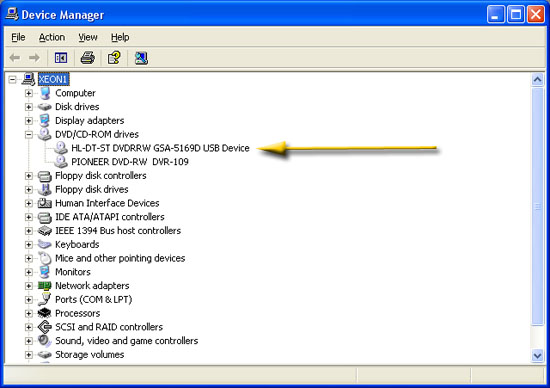 I would guess the same information would come up if you just plugged the drive into a USB slot, but as stated above, it's best to install the software first. There are special USB drivers which the GSA-5169D needs, and it's best to follow the guidelines as per LG Electronics.

GSA-5169D Recognized By DVDInfo Pro v4.6.1.0

DVDInfo Pro is one of the best media drive recognition applications for available features of a particular media drive, and I highly recommend it. The version I used in this review was 4.6.1.0.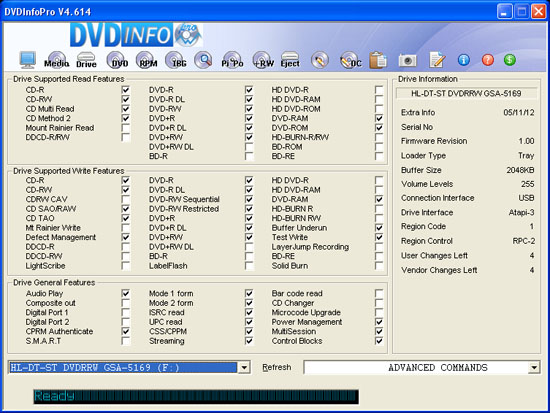 GSA-5169D Recognized By Nero Info Tool v4.03
Nero Info Tool is also another media drive recognition tool, and I recommend it as well. The version I used in this review was 4.03. In this particular case, since the drive was external USB2.0, a driver had to be downloaded (wnaspi32.dll) from Nero's website so the drive would be recognized. Otherwise, if you install NIT, it will not see the external drive.