There are few reviews of the DN800-SLI, and what reviews there are, don't get into the detail I would prefer. So, let's take a closer look at the DN800-SLI motherboard and explain the sections.

Integrated I/O
PS/2 mouse and keyboard connectors
1 x UART 16550 serial port (COM Port)
1 x 25-pin parallel port with ECP/EPP support
4 x USB 2.0 ports
1 x Gigabit Ethernet LAN RJ-45 port
1 x IEEE-1394 port
1 x S/PDIF Out
Rear Out and Center Out
Audio Phone Jacks - Line Out, Mic In, Line-In

The above configuration is pretty much standard for a motherboard these days, but it's nice to see Iwill has kept the features one would normally expect on a single cpu board, but featured on a server/workstation board too. Some server motherboards are rather plain, so you have to be careful in making sure you have those convenient USB2.0 and 1394 ports.

Dual Xeon Power

There's nothing like seeing a Xeon chip...next to another Xeon chip. The DN800-SLI supports all 800MHz versions of the Socket 604 Xeon. Additionally, the latest news is the Xeon 3.8GHz 2MB L2 chip is compatible. The user manual states a maximum 3.6GHz chip and 1MB L2 Cache, but the DN800-SLI does support L2 Cache chips. Currently, a 3.8GHz chip is around $900 USD, but it will be something to think about for an upgrade within a year from now. Intel is set to announce price cuts on their "D" chips late April and/or the first week of May, so we may see some deals brewing for non-D chip purchasers as well.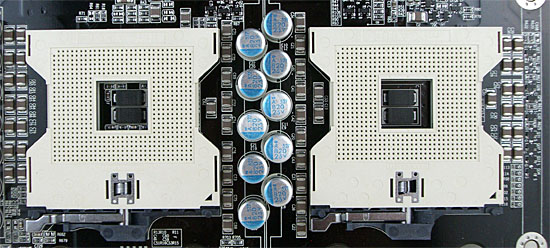 From the above image, you can see there is not a lot of room to place your after market coolers, whether they be fan regulated, fanless, or both. This is pretty much typical with all motherboards. Motherboard Real Estate is often determined by everything but logical layout ideology. The absolute minimum is generally a rule for motherboard spacing. So, with obvious caution, when installing your CPUs on the board, make sure you stay clear of the other components.

Floppy / IDE / SATA

From the image below, you can see your IDE, Floppy, and a pair of SATA connections. You can also see how close the toroidal inductors (those two green circular thingies with copper wrapped around them) and capacitors (those silver cylinder thingies with yellow/black, green plastic covers--Aluminum electrolytic type) come quite close to the IDE and Floppy connectors. Now, if you've been around motherboards at any length of time, chances are, you're somewhat aware of being careful when unplugging and plugging in your cables. However, this is still a good time to remind you to proceed with caution.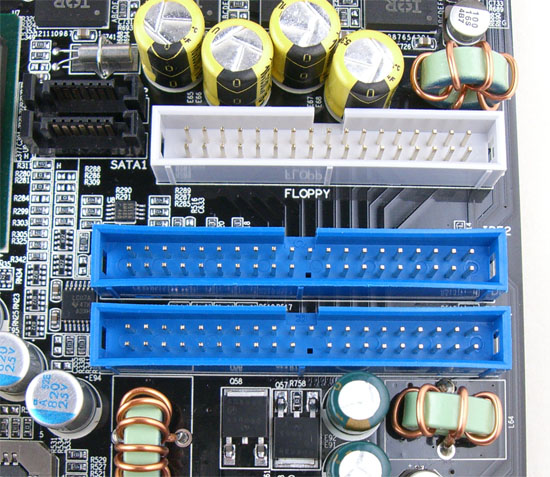 Memory Slots
The DN800-SLI accepts up to 8GB of ECC Registered DDR2-400. Yes, it would be nice to fill those 4 slots with 2GB modules, but currently, they are not cheap. Expect to pay around $500 $250 for ONE 2GB module of your basic spec'd 2GB module (such as Corsair's CM75DD2048R-400 2GB CL4). Expect to pay a lot more (basically double) for overlock-ready 2GB modules and lower latency modules as well (such as CL 2.5).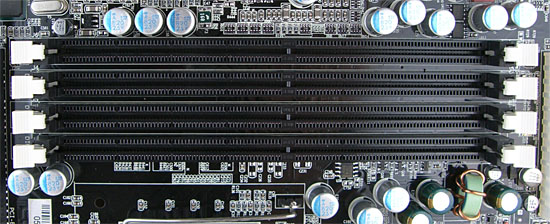 An observation to point out is the closeness the capacitors are to the memory slots. Be sure you insert the memory with care. In other words, don't go by "feel". Make you physically see what your inserting your memory into. There's nothing worse than thinking you're flipping a memory slot fastener when actually it's a capacitor.

SLi And PCI Slots

The DN800-SLI has two PCIe x16 and three PCI "32/33" slots. These days, you really don't need a lot of slots because of on-board LAN and USB2.0/Firewire ports. In addition, many boards offer extra hard drive connections so unless you're going to RAID 16 hard drives, you should be fine. In the case of this motherboard, you have up to 6 SATA connections, and two IDE connections (allowing up to 4 IDE drives), giving you a total of ten drives to use. That's a pretty good amount considering no additional controller cards.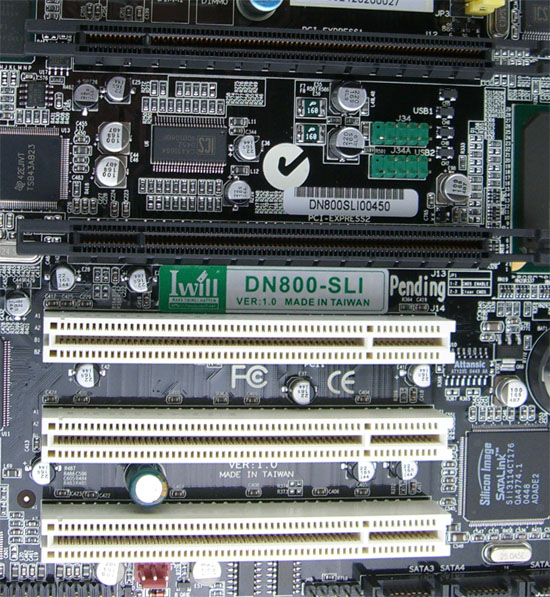 Let's discuss the "SLi" connections for a minute. Please note your SLi connection does NOT allow for true dual-PCIe x16 speeds. When you connect two video cards, the data rate becomes PCIe x16 and PCIe x8. Currently, video cards cannot achieve the x16 rate anyway, so unless you specifically want to purchase $2000 worth of video cards in the next year, once again, you should be just fine. The DN800-SLI is not geared entirely to a PC Gamer Enthusiast but gives the oppportunity to slap two very nice video cards into it while using dual processors.
---
This page was updated on May 12, 2006, due to the prices of 2GB DDR2 becoming less expensive. Of course $239 a stick is not necessarily cheap, but is significantly less than $400 compared to only earlier this year.