I didn't see much about the chipsets on the DN800-SLI being discussed, so...let's discuss them:
Intel 6300ESB I/O Controller Hub
Intel E7525 Memory Controller Hub (MCH)
Silicon Image 3114 SATA Controller
Winbond W83627 THF
Analog Devices AD1980 Audio Codec
American Megatrends, Inc. AMIBIOS SVR2000
Intel 6300ESB I/O Controller Hub
The 6300ESB is the chip which "controls" how your entire motherboard communicates with itself and connected components. It has built-in "features" which allow for particular devices.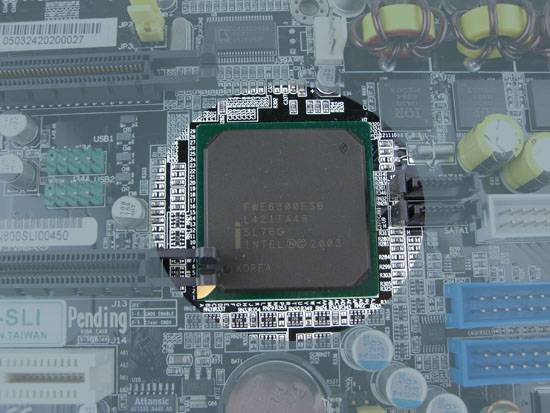 Intel E7525 Memory Controller Hub (MCH)
If you didn't take a hint from the rather large heatsink sticking out of the motherboard horizon like a skyscraper, the E7525 MCH works a lot and does get warm. This particular chipset is for dual-Xeon processors only. You could take the stock heatsink off and replace it with something more elaborate but a proper air-cooled case should be enough.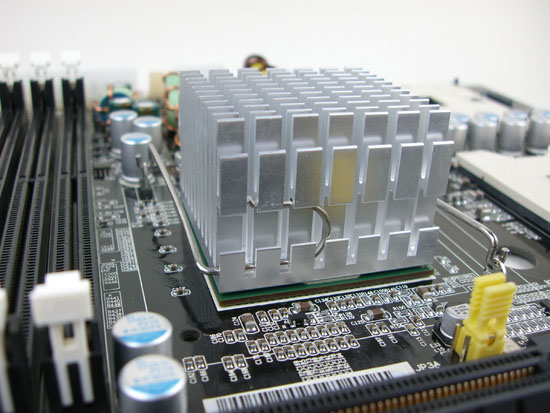 The features of the E7525 MCH are:
800MHz System Bus Capability
Dual-Channel DDR2-400
PCI-Express (PCIe) x16 (Total bandwidth of 8GB/sec)
PCI-Express I/O (allows direct connection between MCH and PCIe components)
Intel Hub Interface 1.5 (Point-to-point connection between the MCH and the 6300ESB CH)
Silicon Image 3114 SATA Controller
This is a Single-chip PCI to 4-port Serial ATA (SATA) host controller. Basically put, this thing controls up to 4 SATA drives. Do take note, it does NOT control the other 2 SATA ports which are located next to the Floppy Disk Drive (FDD) connector. The SiI 3114 only supports up to 4 SATA drives.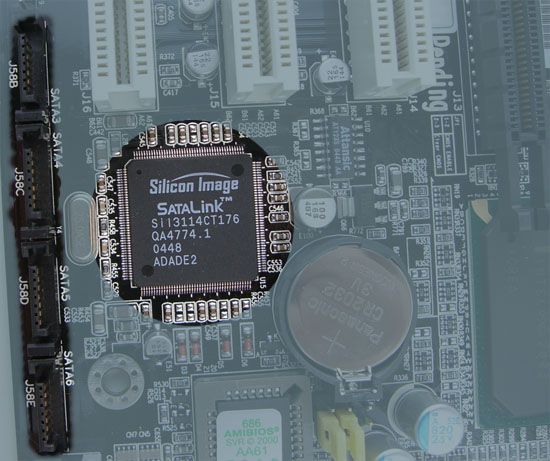 Winbond W83627 THF
This chip controls peripheral functions such as the disk driver adapter, Serial port (UART), Parallel port, Keyboard controller, SIR, ACPI, On Now Wake-Up features and more. Winbond says themselves, the W83627THF is built to avoid rails (the delivery system of power) from shorting. The chip features hardware status monitoring such as power supply voltages, fan speeds, temperatures. It also supports the Smart Fan control system, including Thermal Cruise and Speed Cruise.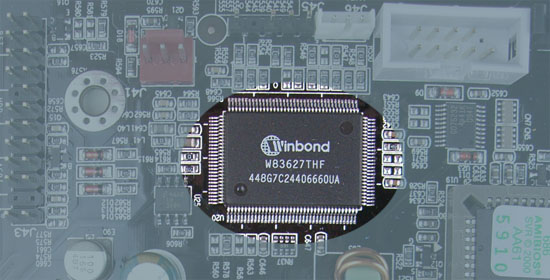 Analog Devices AD1980 Audio Codec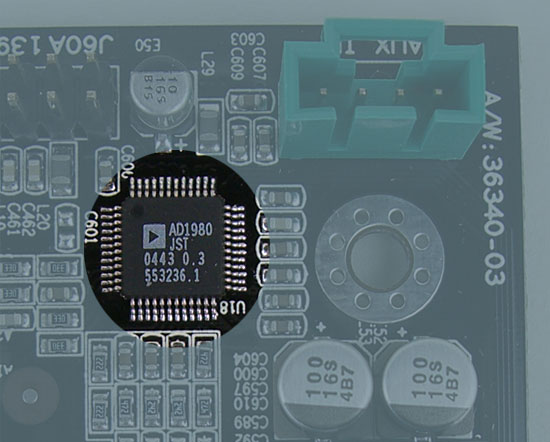 Analog Devices make several audio related chipsets for motherboards. In fact, AD is a prominent component of virtually all motherboards these days.

This particular chipset has the following features:

AC '97 2.3 COMPATIBLE FEATURES
6 DAC Channels for 5.1 Surround
S/PDIF Output
Integrated Stereo Headphone Amplifier
Variable Rate Audio
Double Rate Audio (fS = 96 kHz)
Greater than 90 dB Dynamic Range
20-Bit PCM DACs
Line-Level Mono "Phone" Input
High Quality CD Input
Selectable MIC Input with Preamp
AUX and Line_In Stereo Inputs
External Amplifier Power-Down Control
Power Management Modes
48-Lead LQFP Package
ENHANCED FEATURES
Integrated Parametric Equalizer
Stereo MIC Preamp Support
Integrated PLL for System Clocking
Variable Sample Rate 7 kHz to 96 kHz
Jack Sense (Auto Topology Switching)
Software Controlled VREF_OUT for MIC Bias
Software Enabled Outputs for Jack Sharing
Auto Down-Mix and Channel Spreading Modes
American Megatrends, Inc. AMIBIOS
An AMIBIOS SVR2000 chip is on the Iwill DN800-SLI. AMI is a common bios manufacturer to say the least as they are a widely-known manufacturer of remote access controllers, motherboards, storage systems, backplanes, diagnostic software, and many more aspects of computing systems. Suffice it to say, AMI has a vast background of creating a BIOS for motherboards. The Iwill being one of the more powerful server/workstation motherboards available is no surprise AMI is part of the chipsets.