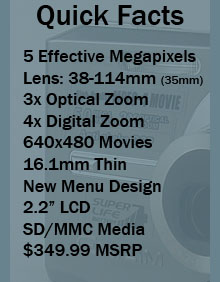 The Casio Exilim Card EX-S500 features a 3x optical zoom, capable of taking 5 megapixel images and videos at 640x480. The EX-S500 is one of the smallest and thinnest compact cameras on the market today, measuring just 16.1mm (a little over half an inch) when the lens is not extended.
Casio Exilim EX-S500
The Exilim Card series is a solution for photographers who would like a fairly decent resolution, while having the smallest compact camera available. Some days you just don't want to lug around heavy lenses and a DSLR. The Exilim Card series is quite thin and compact, fitting in anyone's pocket. Performance-wise, the EX-S500 has a minimal amount of buttons so that operations between several different shooting modes and options, is smooth and fast. The 2.2" LCD is a great addition to the very small size of the EX-S500, and when moving from menu to menu, the eyes are not strained or burdened. With the 38-114mm equivalency focal length of a 35mm camera, you get the benefits of a modest wide angle, as well as a telephoto focal length.
EX-S500 Improvements
The Casio EX-S500 was announced in June 2005, only 9 months after the EX-S100 was announced. If you're a Casio user, you will instantly see improvements. Let's take a quick overview of what they are:
The body of the S500 is much more curved, chopping off excessive volume which was unnecessary
The four attachment screws on the front are now left to only two, which hold the lens mechanism in place
The shutter button has been refined, and is more streamlined into the body
The Strap Ring has been moved from the right-side center (EX-S100) to the right-side top portion of the camera. This was an ergonomic move. When holding the EX-S500 and using the menus and quickly scanning images, your thumb will naturally use the outer strap ring to balance the camera while maneuvering
Anti-Shake (corrects mild movements of the user during image taking)
200 Shots on one single charge versus 180 shots on the EX-S100 (10% increase)
More compact and streamlined docking station
Larger TFT LCD screen
Contemporary menu designs and colors
33 Best Shot modes (versus 23 on the EX-S100)
Higher capacity Li-Ion battery
The EX-S500 has many features packed into one of the smallest sized compact cameras available. In the next section, we'll take a closer look at the features of Casio's super-slim EX-S500.