The Casio EX-S500 has zero button clutter on the body itself. In fact, no more than 14 buttons reside on the EX-S500. Let's take a closer look at the buttons and controls.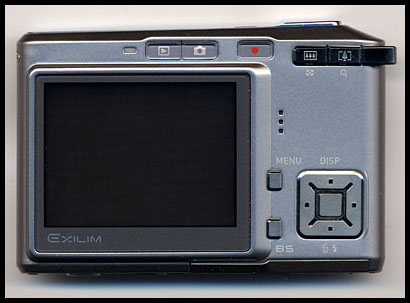 EX-S500 Buttons & Controls
EX-S500 Cluster 1 (Top Cluster)

1) Shutter Button
2) Operation Lamp (Status Indicator)
3) PLAY Mode button
4) RECORD Mode button (Taking pictures)
5) MOVIE Mode button
6) Zoom button (Wide / Image Display)
7) Zoom button (Tele / Magnify)
8) Strap Ring
The shutter button can work as a half-shutter press (auto focus calibration) then full press (picture is taken), or can be fully pressed down for times when you just can't wait for the auto focus to work. The operation lamp will be informing you of your images being taken, and has three patterns for giving you information on the various status events of your camera, ranging from such things as the Auto-Focus, Self-Timer, to your memory card being formatted. The three patterns are:
Pattern 1: One flash per second
Pattern 2: Two flashes per second
Pattern 3: Four flashes per second
The PLAY, RECORD, and Menu buttons will be used the most in operating the camera. This is because most of the setup information is used with these three buttons. It is very easy to get acquainted with the Casio EX-S500's menus, and I didn't even have to read the entire manual to get started (although I read the manual later to go in-depth on some settings and understand what they meant).

The Optical Zoom buttons work with taking pictures and movies. However, the Digital Zoom is not available in Movie Mode. The Wide Zoom button (#6 in the illustration above) also act as a 9-image display for your images, while the Tele Zoom Button can function as an image selector when viewing images. You can also use the Set Button (#16 in the illustration below) to select images. The Strap Ring is very firm and of good quality, so don't hesitate to use it by keeping your EX-S500 on a leash, and safe from falling out of your hands.

EX-S500 Cluster 2 (Bottom Cluster)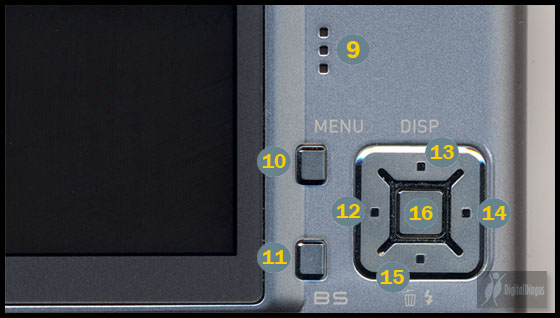 9) Speaker
10) MENU button
11) BEST SHOT button
12) LEFT button
13) UP button (Info Display)
14) RIGHT button
15) DOWN button (Delete, Flash Mode Selection)
16) SET button
The speaker works very well, and be sure to adjust the "Play" level in your Setup Menu. By default, it is set to off (or very low). The Menu button you'll be acquainted with very quickly, as it's one of the main buttons which enables you to get into the many various options of the camera. The Best Shot button is actually very handy and convenient, and if you find yourself in a situation where you just can't get the right adjustments, try Best Shote mode. It acutally works.

The area which contains buttons 12-16, is commonly referred to as a D-Pad. If you've every used a gaming console, you'll be familiar with this. Direction Pads are very convenient on cameras, as they allow for quick movement throughout the camera's many selections. I found this to be the case with the EX-S500, and setup was a breeze.