1500VA UPS Battery Backup
by Belkin
Features: A dual-form factor UPS, which features Automatic Voltage Regulation, 8 battery protected outlets, SNMP, USB and serial options. 3-year warranty. Fanless operation.
Official Website: http://www.belkin.com
MSRP: $199.99
Current Price: Click for best price

Belkin's 1500VA UPS Battery Backup comes shipped quite well in two boxes. The first box is a protective shipping box with the actual F6C1500-TW-RK box sitting nice and snug inside. The actual 1500VA box is glossy on the outside for the nice color illustrations Belkin provides for the consumer. The box could be thicker, but since it is shipped in another box, I don't have much of a problem. The 1500VA UPS (F6C1500-TW-RK) is wrapped in a plastic bag, with two 1.5" thick, foam-like synthetic blocks protecting the front and back (which would be the left and right sides of the box). The top and bottom of the box have egg carton type cardboard protectors (you can see these in the image taken of the inside of the 1500VA UPS box above). I was very impressed on how the F6C1500-TW-RK is shipped to the consumer. Too bad more products can't be shipped this way, which would preserve the actual product box significantly.

What I Found In The Box Of The 1500VA UPS F6C1500-TW-RK
(1) 1500VA UPS F6C1500-TW-RK
(1) Bulldog Plus Shutdown Software
(1) USB Cable
(1) Serial Cable
(1) Phone Line Cable
(4) Tower Stand Base Pieces
Phone, Serial, USB, And Base Pieces
Seen below are the included accessories which come with the 1500VA UPS F6C1500-TW-RK. The Tower Base Pieces as they are referred to, are designed to hold your UPS in a vertical (i.e., Tower) position.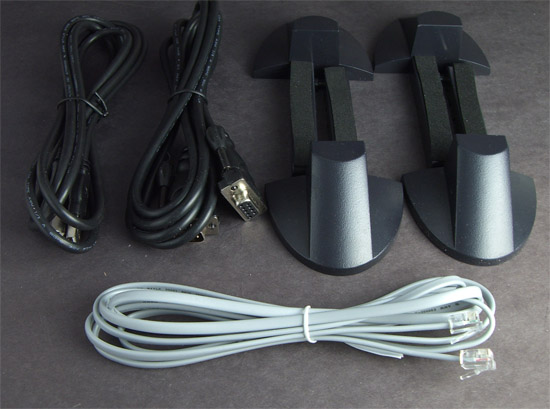 A Closer Look At The Tower Base Pieces
The Tower Base Piece is simple design, but is very effective at keeping the 1500VA UPS firm on the floor. Due to the weight of the 1500VA UPS, the tower pieces naturally help the UPS remain stable when in a vertical position.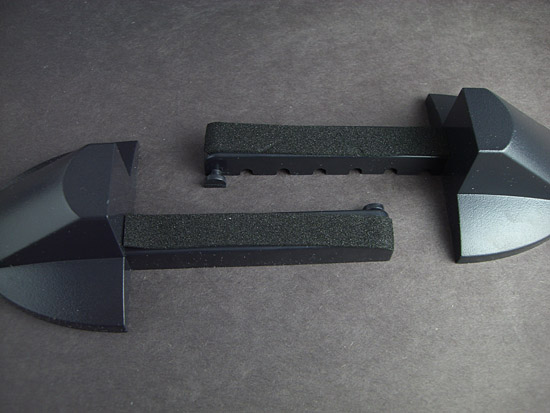 Below is another image showing the underside of the tower pieces. Notice the notches, which enable you to expand or contract the tower pieces as necessary.