Accelero XTREME Plus II
by Arctic Cooling
Features: A multi-compatible video card cooler, 300-Watt cooling capacity, 83-fin heatsink, 5 heatpipes, and three 92mm PWM fans.
Company: Arctic Cooling
Announced: May 25, 2011
MSRP: $84.99 / €64.90
Current Price: Check Price / Purchase

We are taking a closer look at the Accelero XTREME Plus II. The most interesting aspect of conducting this review was observing the size of this thing. I can't help but wonder how much power a typical "consumer computer" draws these days. The specs for the power draw on this massive cooling machine...is 300 Watts. I remember when a 300-Watt power supply for the entire computer was considered "high-end".

Accelero XTREME Plus II Packaging: WTF

Unless the packaging goes outside the bounds of a typical manufacturer — I don't say much about packaging. In this case we have some questionable packaging which needs to be improved on. Arctic Cooling mentions they have a Green Spirit, but from the plastic packaging I got...I'm not Feeling The Green. In addition, the packaging for the Accelero 2 is just a pain in the ass to get open without the fear of using a sharp knife cutting into the product. It took me several minutes, snipping and cutting with a pair of scissors to get into the damn thing, because this packaging wasn't even the type you could pull apart. The entire surrounding edges were sealed.

So, why not make a 90-100% recycled paper product for the packaging of this rather expensive cooler? We're talking about a typical $85 for this sucker, and I would guarantee if it cost an extra $1 on the pricetag, any enthusiast purchasing this would gladly accept the additional charge versus having to dispose of the plastic packaging, let alone dealing with opening it.

So next time, let's see some paper packaging!

Accelero XTREME Plus II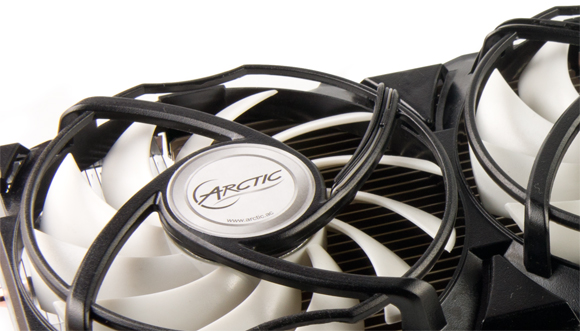 One of the 92mm cooling fans on the Accelero XTREME Plus II
Heatfins are still a very reliable form of cooling, and the only change over the years is adding heatpipes. In this case, we have heatpipes shooting out of the central area that is the most hot, and projected directly through the heatfins, outward.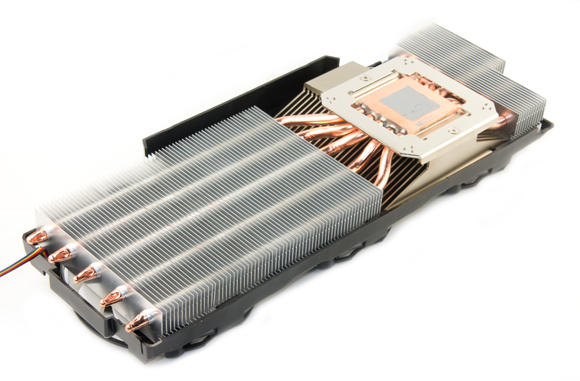 The underside of the Accelero XTREME Plus II
I have to wonder if heatpipes would work just as well if they were combined into one single rectangular pipe. Because with all the pipes coming out of the main GPU core area, heat will gather around the individual pipes themselves.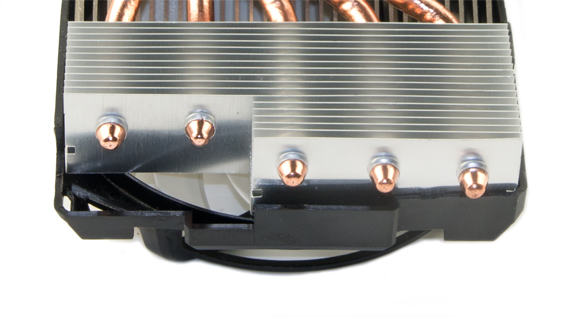 Accelero XTREME Plus II Heatpipes & Heatfins
Accelero XTREME Plus II: Accessories
Arctic Cooling provides a wealth of heatsinks (31, actually) to accommodate the various AMD and nVidia graphics cards. For some models, an additional accessory set (VR002 or VR003) will be required (models needing this are on the specifications page).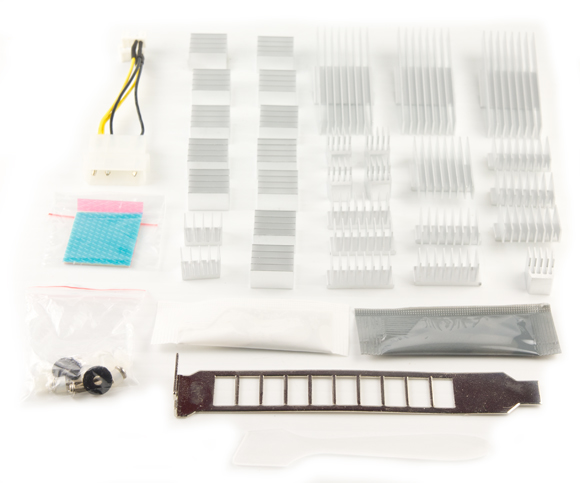 Accelero XTREME Plus II accessories
Looking over the Accelero XTREME Plus II, I definitely got the impression this was a well-designed cooler. Open-Air fans to move air anywhere other than the source of the heat. A multitude of heatfins to absorb heat not only from the five heatpipes, but from underneath, where the VRAM and Voltage Regulator heatsinks were going to be installed. Speaking of, let's get to the installation part...