Pros
Realistic filters
A vast assortment of settings within each individual filter
Hundreds of pre-defined settings embedded within the available filters
10 filters available, spanning a wide range of artistic realism
Edge detection keeps your image intact
Special lighting controls add even more creativity to your image
Very helpful Help Menu
Easy to use GUI
Cons
Observations
Make sure you have a computer who's processing specs can manipulate the images without taking a long time to finish--you will thank me later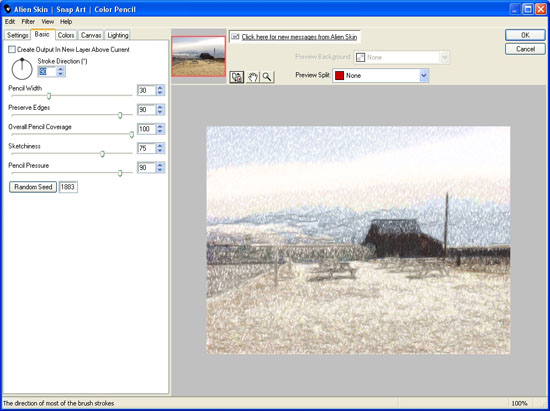 Snap Art is the second plug-in from Alien Skin I've had the chance to use and it was exciting to see the results from the various filters on my images. The graphical user interface (GUI) has still been kept to simple but yet highly customizable with the different sliders, which make different settings simple and easy. The added feature of saving unique filters of personal experimentation is one of the major successes of Snap Art. Not only do you have hundreds of pre-defined filter settings available to you, but with the added save functionality, you can create your own library of exra settings, making Snap Art a powerful workflow application.

HIGHLY RECOMMENDED PLUS

Using Snap Art I encountered no software errors. However, I do recommend users have a decent computer system. I used two computer systems for using Snap Art. One is my older PC which is a dual 1GHz processor PIII system, and the newer PC is a dual Xeon 3.6GHz processor system. Currently, I'm only using one 3.6GHz processor (overclocked to 4GHz) and the filter processing times are a breeze. Alien Skin recommends a P4 processor or better, and I completely agree with this recommendation. My dual PIII system did marginally ok, and I mean marginally, because it took a few moments to process an image of roughly 500x400 and at 2000x3000, was becoming sluggish. I suspect a dual-core processor would perform even better than my Xeon 3.6GHz and since dual-core machines are very much prevalent on the market and are inexpensive, I'd suggest upgrading to one if you haven't already. If you have a P4, I'd suggest doubling Alien Skin's recommendation of 512MB of RAM to 1GB.

Snap Art's ability to virtually take any image and render it into a natural media artwork presentation, will bring new life to images you thought were boring or just didn't have that certain something in them. In fact, I had a few images which made me notice more details I never thought existed. This is what a software application specializing in image manipulation should do. It should bring this new found life to images and open new viewpoints the artist never knew existed.