The FireFly is SnapStream Media's complete Home Media System Remote (HMSR). When the term Multi-Media surfaced in the early 90's, it defined the integration of computer and home audio systems. Today, the average computer has enough processing power to play audio and video content which was once only capable of a separate video playback device. With the ever-decreasing price of high quality LCD monitors replacing the heavy and expensive-to-repair CRT computer monitor, the home theater is being re-defined and relocated in areas which were previously known to be impossible.

Once a computer user has all the components in making a rich and vibrant Home Media System, the problem of integrating the computer with the convenience of not having to physically use the keyboard to perform functions that a typical DVD player and AV receiver would, becomes apparent. Devices such as SnapStream's FireFly, are made to allow the user perform all the necessary functions without having to be at the computer workstation, and instead, watch movies, listen to music, and flip through photo albums, all from the living room sofa.

SnapStream FireFly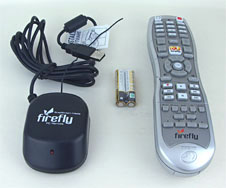 The FireFly is a remote control which takes over those actions you would normally have to click with your mouse within a computer operating system environment. Having the freedom to move around the home and not being ball-and-chained at the computer desk has many advantages. Today's computers are now connected to the home theater and many watch video content being played directly from the computer itself. Getting up from the couch and pressing Play on your PC to watch a movie is rather inconvenient, but with SnapStream's FireFly, a wide variety of applications can be programmed for instant access to your favorite programs without getting up from your chair. In fact, over 80 applications are now compatible with the FireFly remote.
SnapStream FireFly Features
RF Technology for considerable remote distance
One-click access buttons for Music, Photos, DVD, TV, and Video
Browse through your images and video content on your computer from your comfortable couch
Girder (a home automation software application) compatible
Affordable Price
The SnapStream FireFly is available for $49.99 which comes with Beyond Media Basic which can be upgraded for $49.99 to the full version. If you're wanting to use this application, I recommend purchasing it with the FireFly Remote bundle which is $69.99, saving yourself $30.