The SilverStone FP52 is a "smart" fan controller which will automatically adjust the speeds of your most vital fans in accordance with the temperature. Up to three fans can be connected to the FP52 which include three thermistors labeled as SYS, CPU, and HDD, providing a temperature trio of monitoring area for your computer system.

Silverstone FP52 Features
Up to three fans can be controlled
Three thermistors provided for specific "hot spot" areas within your PC
Sapphire neon LCD
Brushed aluminum faceplate to match your black or silver aluminum cases
Aluminum bezels and polished buttons
Alarm clock
Time display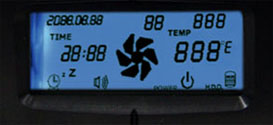 As of the time of this review, winter is only about 3 months away. Depending on where you live, the temperatures may not change that much, but for most of us, the temps do change. If you have a fairly elaborate system, you no doubt have several fans running to keep all your precious hardware cool. But when winter approaches, the temperatures inside your case naturally decrease.

Since the winter and spring months are the most favorable for electronic hardware, having your fans running at the constant RPM's may not be necessary, and may only add more power drain on your PC than what you really need. The FP52 can take care of this for you by lowering the speeds or increasing them depending on the environment.

Three thermistors are provided by SilverStone on the FP52. You could place one near the CPU or on the heatsink, one on your most-used hard drive, and maybe even one near another hotpoint which is the memory controller. Fan positioning is important because you don't want the FP52 to increase the speed of a fan which will not cool down the area the sensor is on. What I recommend is to think about where your computer fans are located, what each fan is supposed to cool, and then place your temp sensors appropriately.

Now, let's take a closer look at the FP52...