3D Game O2
by Sandio
Features: A mouse created exclusively for 3D gaming (Call Of Duty 2, Half-Life, Half-Life 2) and 3D environment applications, such as Google Earth and Microsoft Virtual Earth, as well as CAD applications.
Official Website: www.sandiotech.com
MSRP: $79.99
Current Price: Buy Direct

The 3D Game O2 mouse works great right out of the box. No additional drivers necessary. My Windows XP Pro (w/SP2 and all the latest updates) install recognized the mouse just fine. Of course, if you have Vista, I can't guarantee anything but Sandio says it is compatible with Vista, so you should be ok. After plugging the mouse in, I instantly noticed the 3D Game O2 has a much wider stance than a typical mouse. A typical mouse has a width of about 2.5" while the 3D Game O2 has a 3.5" width. This results with an approximate 30% increase. For large hands, this is perfect, as I read comments about large-fingered folk who have a difficult time with most mice. For smaller hands, this will take time to get used to. Accordingly, I have some suggestions in the conclusion of this review.

Sandio Input Device Software Version 2.1.0

In order to take advantage of the 3D motion capabilities with the 3D Game O2, Sandio's IDS (Input Device Software) v2.1.0 is required. Once IDS is installed, you have 41 PC games to add to your favorite titles you have installed on your computer. Half Life, HL2, Unreal Tournament 2004, Call Of Duty 2, are just a few of the mega-popular titles this mouse supports. In addition, the pre-programmed buttons are customizable. You can also name your custom settings profiles as something completely different from the available list.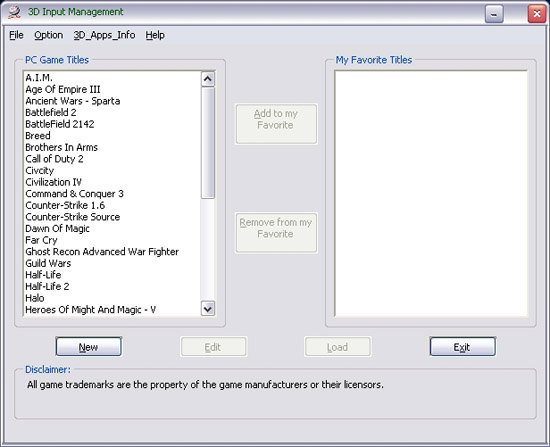 Import / Export Your Favorite Settings
What's really cool about the Sandio's IDS software, is you can export or import your favorite settings. What this also means, is you can create your own personalized set of settings for additional PC games or apps, and have them stored safely.
Call Of Duty 2 Configuration Example
One of my favorite PC games is Call Of Duty 2. Shown below is the pre-programmed configuration, which still leaves me the option of adjusting the mouse buttons.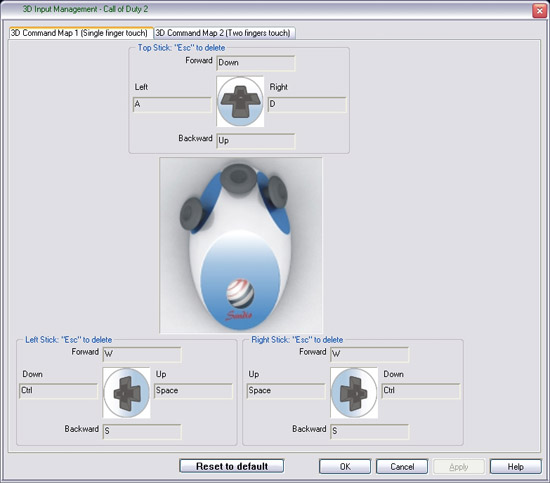 Using the 3D Game O2's advanced features, I can opt for "2-Finger" control: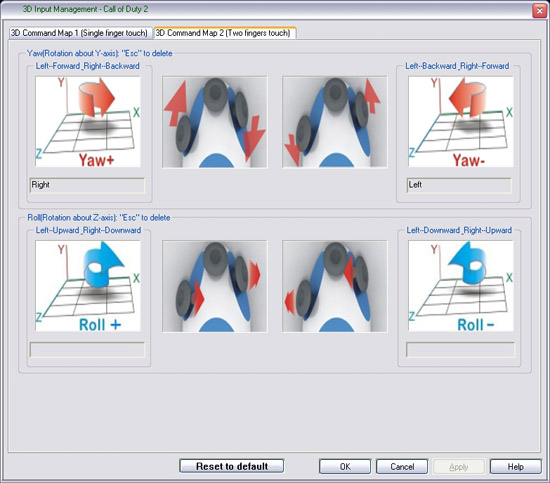 2-Finger Practice
Need some practice before you play a demanding game? Sandio offers a practice application so you can get used to the 3D Game O2's controls. Of course, I'd recommend practicing within the PC game itself, but this application is somewhat interesting and gives you the complete basics of how the mouse works.