3D Game O2
by Sandio
Features: A mouse created exclusively for 3D gaming (Call Of Duty 2, Half-Life, Half-Life 2) and 3D environment applications, such as Google Earth and Microsoft Virtual Earth, as well as CAD applications.
Official Website: www.sandiotech.com
MSRP: $79.99
Current Price: Buy Direct

The Sandio 3D Game O2's packaging gave me a love/hate experience. The box itself requires no plastic edges to cut, cardboard flaps to pull, or tape to slash. The box is kept shut by invisible magnets embedded inside the box housing, which keeps the box in great shape over time for storage of accessories or for possible future selling when an upgrade is available. Unfortunately, the inside of the box wasn't too keenly put together. An irritating plastic shell covers the mouse and accessories, which requires a lot of effort to pull apart. Additionally, for some reason, the plastic shell has taped sections which stick too well to the box, resulting in the inevitable tearing of the box lining itself. Overall, the packaging is ok, but the insides could have been designed better for easier retrieval.

The 3D Game O2 Mouse

The 3D Game O2 has a very aggressive design to it. The moment I took it out of the package, I could tell it meant business.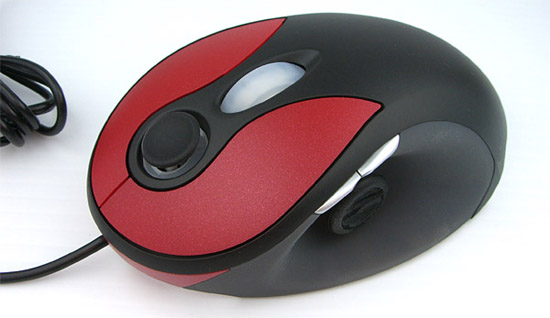 Sort of a birds-eye view of the mouse, you can see the overall shape of the 3D Game O2.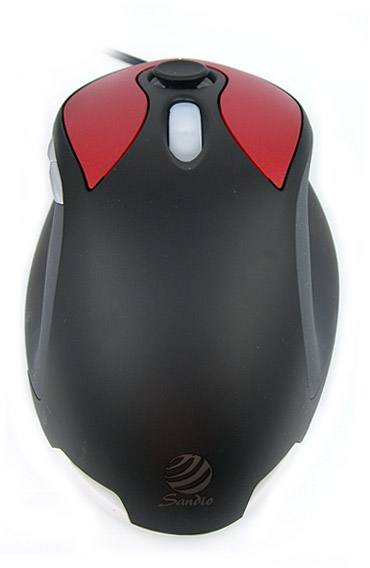 Large Teflon Pads
One of the observations which I took note of, was the rather large Teflon pads (sometimes referred to as "feet") underneath. I've used other mice before with Teflon pads, but these are the largest I've seen so far. This is good. Very good.
In The Box
Below is what you find in the box. Sandio is nice enough to include a wrist support extension, which attaches to the 3D Game O2.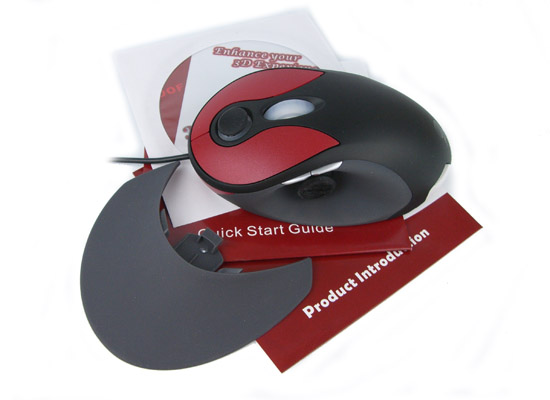 In the next section, we'll take a look at the actual software which runs the 3D Game O2...