And here we are to see how the DVR-111DBK performs. The Pioneer DVR-111DBK came shipped to me without having its region code set, which means I have a total of five changes for region choosing, and the fifth change, is permanent. Obviously, I'm not going to even touch the hardware region code change as there are applications which neutralize the RC for me, thereby making it much easier to watch imported movies.

Pioneer DVR-111DBK: DVD Info Pro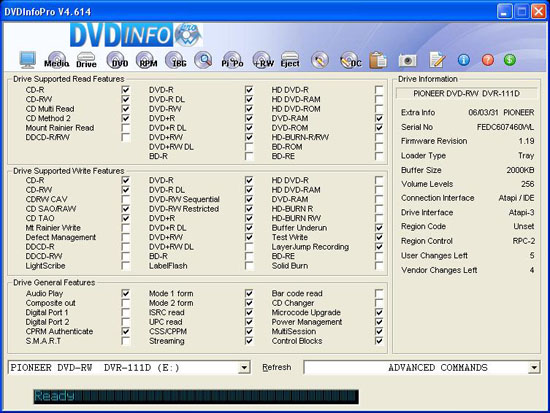 I was somewhat surprised to see the DVR-111DBK supports LJR (i.e., Layer Jump Recording). While I didn't have the opportunity to own a DVR-110D, I do have the DVR-109D and although it supports dual-layer recording just fine, it does not feature LJR. For those don't know what LJR is, LJR permits multi-session recording of dual-layer DVD-R media. In addition, the data is written equally on both layers to the outer part of the disc.

Nero CD/DVD Speed: Create Disc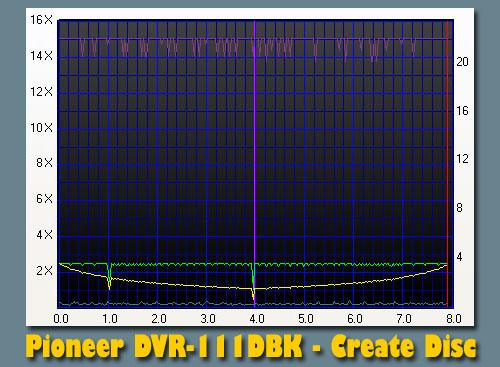 Using Matrix DVD+R DL 2.4x media, and identified as RICOHJPN D00 with DVD Info Pro, you can see the following burn results above. You can also observe an apparent drop in burning speed around 1GB. This is nothing to worry about but the ideal scenario is to see uniform results across the entire burn test. This could also have something to do with the disc itself and/or the media being used in general. The expected drop in burning speed at just about 4GB is the layer switch.

Nero CD/DVD Speed: Benchmark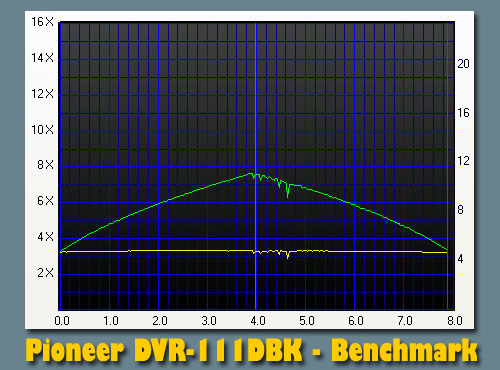 From the graph above, the DVR-111DBK did great up until the layer change, and that's when there appears to be some sort of physical unstableness going on in between the 4GB to 4.6GB area. Eventually, this levels out. What could cause this? Well, it could be the media or the drive. More than likely, it's the media, but let's make sure...

Nero CD/DVD Speed: DVR-111DBK Benchmark Results

The test disc created in Nero CD/DVD Speed was tested three times and in all three tests the graph was the same as shown above. Below are the actual numbers from those three tests.
DVR-111DBK Benchmark
Nero "Test DVD" Section
Cycle 1
Cycle 2
Cycle 3
Speed
Average
5.70x
5.70x
5.71x
Start
3.19x
3.18x
3.19x
End
7.61x
7.61x
7.60x
Seek Times
Random
127ms
119ms
135ms
1/3
146ms
137ms
136ms
Full
272ms
219ms
227ms
Burst Rate
39MB/s
38MB/s
37MB/s
Now, we're going to put another disc in the drive altogether and see if we come up with the same graph characteristic. If we do, it's the drive. If we do not, it's the disc.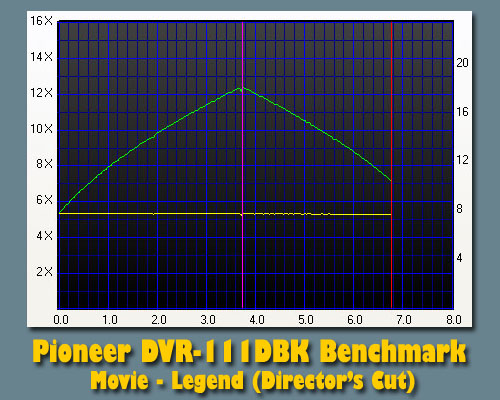 As you can see, it's definitely the disc and the drive performs just fine.
DVR-111DBK Benchmark
Nero DVD Movie Test Section
Move Used: Legend (Director's Cut)
Cycle 1
Cycle 2
Cycle 3
Speed
Average
9.59x
9.59x
5.71x
Start
5.31x
5.31x
3.19x
End
12.33x
12.33x
7.60x
Seek Times
Random
115ms
115ms
135ms
1/3
124ms
124ms
136ms
Full
203ms
206ms
203ms
Burst Rate
40MB/s
40MB/s
40MB/s