HJ-720ITC Pocket Pedometer
by Omron Healthcare, Inc.
Features: Dual sensors for more accurate step recognition. 7 days of information stored for display, with up to a total of 41 days stored on the unit. Omron Health Management Software included to view distance, calories burned, fat burned, with separate aerobic steps and all sensed steps displayed for more accurate step information.
Official Website: http://www.omronhealthcare.com/
MSRP: $59.99
Current Price: Check Price / Purchase

The HJ-720ITC Pocket Pedometer comes with Omron's Health Management Software, which is quite a powerful little application. Not only can it retrieve data from the HJ-720ITC, but it can also connect to several of Omron's blood pressure monitors as well, providing a wealth of information with only a few mouse clicks. Viewers might be asking what's the difference between the HJ-720ITC reviewed here, and the HJ-112, because they look a lot alike. The HJ-112 is virtually the same pedometer feature-wise (although lacking the 41-day memory), but more importantly it does NOT connect to the Omron Health Management Software nor is it compatible with it at all. For anyone planning to track their progress, the HJ-720ITC is certainly the better choice as it can store your daily information for months and years.

Installing the Omron Health Management Software was very simple, and no problems were encountered. The entire application is around 54 MB and the latest version used as of this review, is 1.3.

Omron Health Management Software was installed on DigitalDingus PC System #1 and DigitalDingus PC System #2. Both systems did not encounter any particular issues, and the application ran without any errors or hangups.

The Omron Health Management Software User Interface

Initially, you're going to create a username for yourself within the User Management section. This is done by either clicking on the Change Screens button in the upper-right corner when you're in the graphical display of your information, or from the File menu.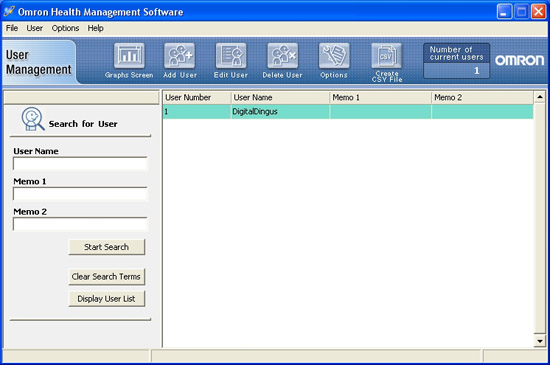 The graphical user interface for OMHS is superb, and I can tell it's been designed to give the user the most visual benefit. The important statistics are not squished within other stats, and they are easily viewable. Another screenshot is taken of the OHMS below: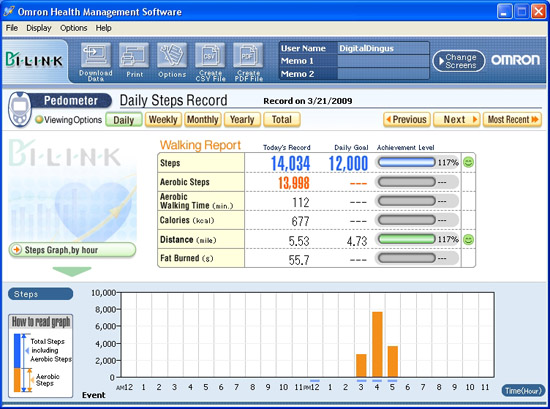 As you can see above, your steps can be monitored by the hour, which gives a really convenient way of taking a closer look at your stepping routine. For example, maybe you got a little tired during one particular hour, but not so much in others. By looking at this graph, you can see where your problematic areas are, and take the appropriate action.
Advanced Features
The Omron Health Management Software is not just for viewing your data. It can do so much more. Not only does it import data from the HJ-720ITC, but you can export the data to a CSV file. And if this isn't enough, you can create a PDF file of your data: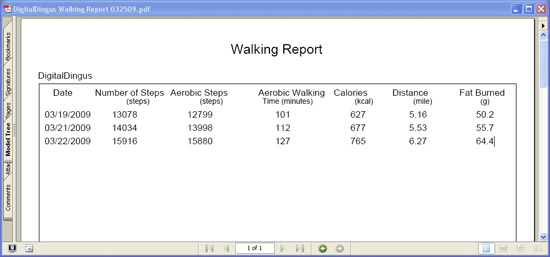 By offering these options on the HJ-720ITC, your information can be safely stored and not accidentally forgotten or over-written, as is the case with lesser-featured Omron pedometers.