HJ-720ITC Pocket Pedometer
by Omron Healthcare, Inc.
Features: Dual sensors for more accurate step recognition. 7 days of information stored for display, with up to a total of 41 days stored on the unit. Omron Health Management Software included to view distance, calories burned, fat burned, with separate aerobic steps and all sensed steps displayed for more accurate step information.
Official Website: http://www.omronhealthcare.com/
MSRP: $59.99
Current Price: Check Price / Purchase

Let's take a closer look at the HJ-720ITC Pocket Pedometer. The HJ-720ITC is a pretty good compromise in size. It's not too big, but also not so small you can't grasp it and view information while you're walking and jogging. During my own exercising routine, the HJ-720ITC was placed in my sweatshirt pocket and I didn't even notice it was there. It's lightweight for its size, and I was expecting it to be a tad heavier, but it wasn't. The buttons on the HJ-720ITC are fairly easy to use and having be rubber versus hard plastic, was a good idea. The LCD display is fantastic. It's large and can be seen from a distance, so you don't have to strain your eyes to read the numbers when you're walking or jogging. One feature I would have used on this pedometer, but which was not available unfortunately, was a backlight. For those who walk and jog at night, this would be a very nice addition.

The HJ-720ITC Pocket Pedometer

Shown below is the HJ-720ITC. As noted above, the buttons are large enough for ease of use when exercising. And of course, a backlight would have been great. However, this feature probably would have significant drain on the CR2032 battery, so it is possible Omron decided not to do it, so the life of the battery would last much longer.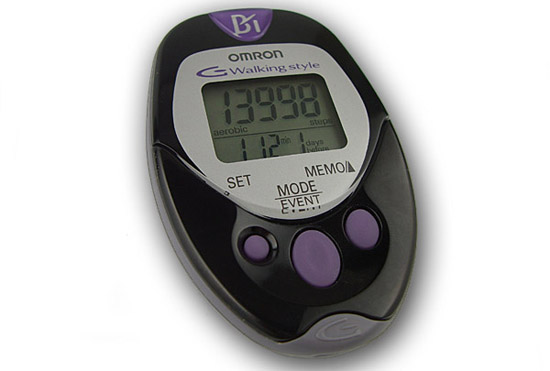 Below we can just see the back part of the rubber cover for the mini-USB port, and directly south of it, the reset button, then the screw which allows the battery cover to be removed, revealing the CR2032 battery, and finally, the loop hole where you pass the safety strap through and attach the clip to your belt and/or pants so the HJ-720ITC won't be lost if it comes loose via the belt clip alone.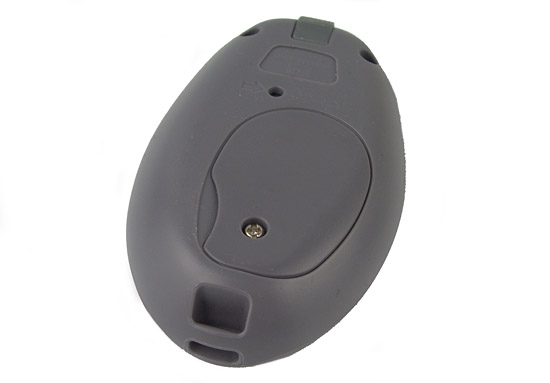 Mini-USB Rubber Cover
Shown below are a few pics taken of the rubber cover, which protects the mini-USB port from getting debris inside. While this is certainly a prudent measure, the design is flawed. Over time, the rubber cover will crack and tear off from regular use. If this was some device where the cover wasn't used that often, I wouldn't be so harsh, but since this is a digital device which will be used by fitness enthusiasts and exercising beginners on an almost daily basis, the point is clear — there should be a better design for repeated use.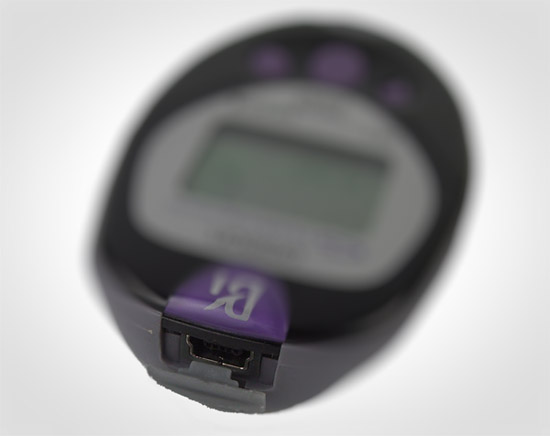 Another pic below with an exploded section, reveals in my particular case, there is already a stress indication (the rubber develops speckles of white which means the rubber is slowly cracking) where the rubber cover pivots when you open it.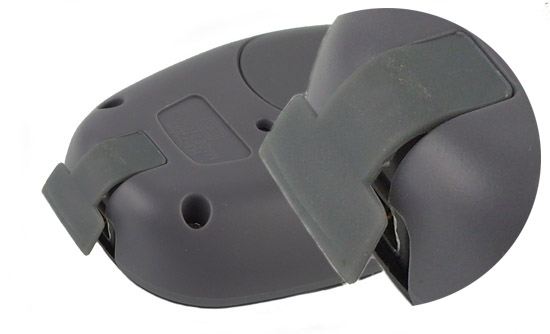 The Belt Clip & Holder
The belt clip is a great idea. After all, it would be nice to just clip a pedometer on your sweats and be on your way. Right? Well, we gotta problem. This clip wouldn't stay fastened to 99.99% of the general public's pants. Maybe it would do just fine on an anorexic's hips with a belt having the diameter of a licorice string, but for most of us, this clip just isn't practical and won't keep your HJ-720ITC attached to your sweats or belt.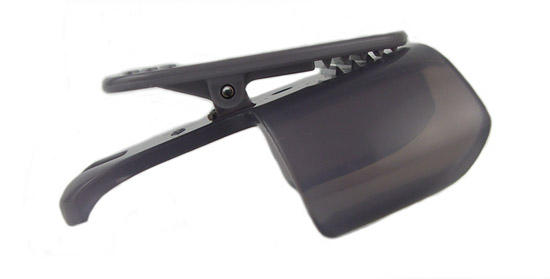 And now here's a twist on the belt clip issue. The actual holder...works. The holder keeps the HJ-720ITC firmly in its place. While the belt clip is useless, the holder keeps the HJ-720ITC rather tightly attached. Of course, this is great to report about in a review, but unfortunately, without a belt clip that is reliable, the holder's better performance can't be realized.