Machspeed Trio TV5
Features: Image viewer, audio recorder, MP3 player, AV IN & OUT, 5MP digital camera, and more
Weight: g (2 lbs 1.5 oz)
Warranty: 1 year
Official Website: Machspeed.com
MSRP: $119.99 | Click For Best Price

The packaging of the Trio TV5 is compact, and comes in a plastic blister pack. I don't particularly prefer these types of packages as it takes a sharp object to remove the item from the packaging and I'm sure I'm not alone when I say I pinch my fingers inadvertently when opening the package. I would prefer the package in a cardboard box with a clear rectangular plastic display showing the item, much like the many other products I've reviewed in the past. In any case, I can't be picky, but something packaged like the GretagMacbeth Eye-One Display 2 would be great. What I did particularly like, was the inclusion of a pouch to hold the Trio TV5. Most devices like these do not come with a pouch and are available at an additional cost. While the Trio TV5 pouch isn't the best of quality, it works and will protect the TV5 from common scratches that occur when having such a device on the go.

What's In The Box

Here is what I found in the Trio TV5 blister package:
Trio TV5
Carrying Pouch For Trio TV5
User Manual
Installation CD
USB Cable
"Record Convert" Cable
AC Charger
Stereo Earphone
Power Cable
Video Cable
Trio TV5 - Front View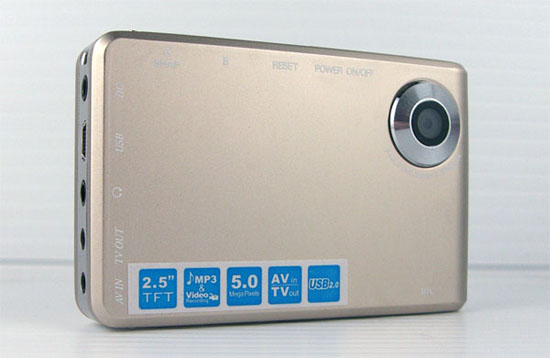 From the front you can observe the camera lens which take 5MP images and the INS and OUTS of the TV5 on the left side. We'll take a closer look at the jacks on the TV5 below.

Trio TV5 - Back View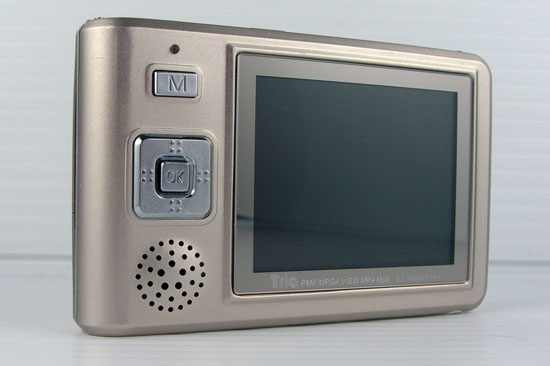 From this angle, you can see the nice and large 2.5" LCD, the speaker (which has rather impressive sound for it's size), navigation area, and the "M" button, which takes you directly to the TV5's main menu.

Trio TV5 - Side View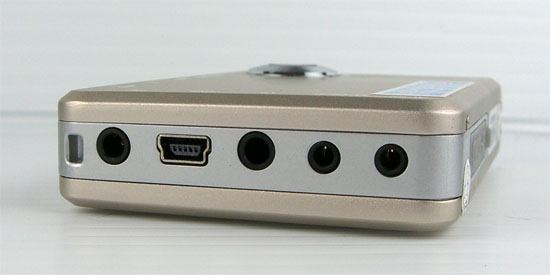 The Trio TV5 comes with an impressive amount of inputs and outputs for just about anything. From left to right: Charger port, miniUSB2.0 port (1.1 compatible), headphone jack, TV output, and A/V input.

Trio TV5 - Top View

From left to right: Power ON/OFF, reset, "B" button, and "A" / Snap button.

Trio TV5 - Bottom View

Additional memory, by using an SD media card, can be inserted into the slot behind the rubber flap. This is not a preferred way to house a media card (because the rubber will wear away after a short period of time or get accidentally caught on something), but I suppose it works.

Trio TV5 - Cables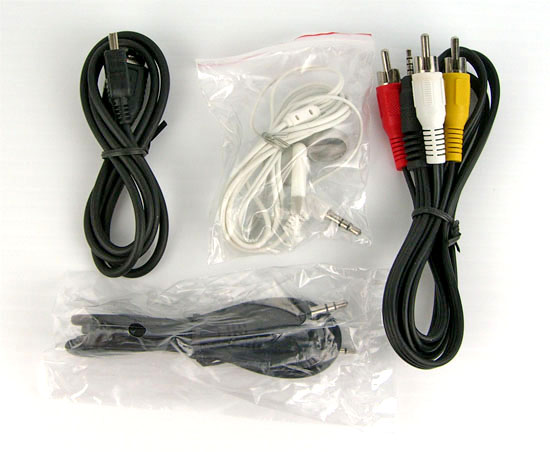 Machspeed provides all the cables necessary for you to get the most from the TV5. Just as an FYI, the "Record Convert" cable (seen below on the lower-left) is a male-to-male 1/8" stereo mini plug cable.

Trio TV5 - AC Adapter / Charger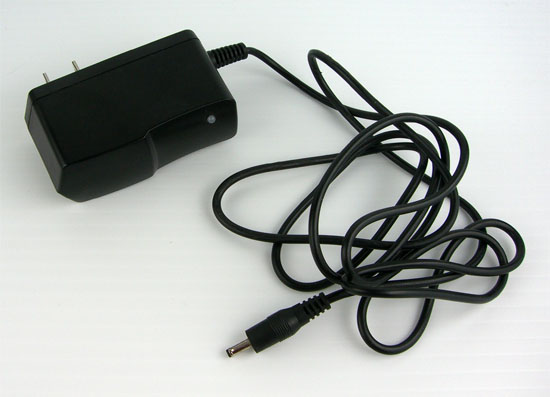 The AC Adapter (charger) is an average adapter. It is light in weight, but does the job. I would have preferred a more heavy duty charger with heatsinks.

Trio TV5 - Carrying Pouch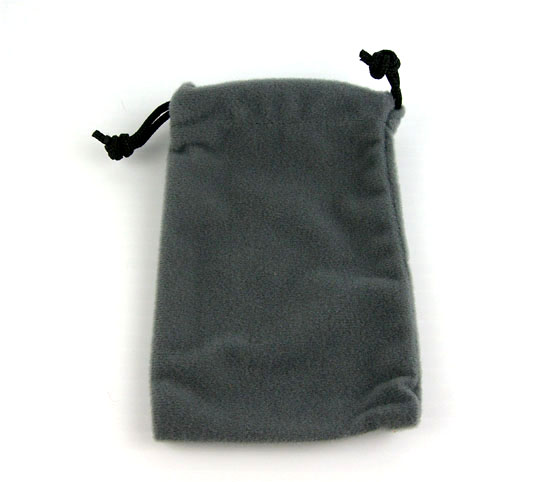 As mentioned previously, I like the inclusion of a carrying pouch because so few devices have this as an included accessory. While the pouch is more of a mesh-like material, it will keep your TV5 from being scratched on the LCD and camera lens areas as you travel with it.