Machspeed Trio TV5
Features: Image viewer, audio recorder, MP3 player, AV IN & OUT, 5MP digital camera, and more
Weight: g (2 lbs 1.5 oz)
Warranty: 1 year
Official Website: Machspeed.com
MSRP: $119.99 | Click For Best Price

Installation of the Trio TV5 is rather simple. The application which controls the conversion of your audio and video files, is only about 2MB in size (requires 5.1MB disk space), and leaves a minimal amount of system drain on your PC. The name of the application which handles conversions is the PMP Transcoding Tool and had a version stamp of 0.5.1.0 for Windows NT/2000/XP. PMP Transcoding Tool is apparently made by SunPlus, although I'm not completely sure. Simply putting "PMP Transcoding Tool" into Google and SunPlus comes up. I tried looking for an updated version of PMPTT but could not find anything, and it appears to be discontinued. One of the major problems with outsourcing applications for use with your product is the very real possibility of companies dropping support and/or updates after your product is successfully selling on the market.

PMP Transcoding Tool Inferface

The PMP Transcoding Tool interface is rather lacking but does not provide adjustable quality configurations for music unless you have a video file (I later discovered this while browsing the manual).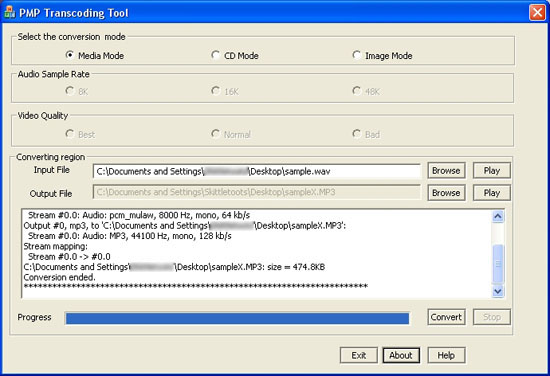 What I do find pleasing, is the interface is clean and simple, and a person can easily browse files to convert. If there were more additional options on this app, it would be a great addition to the TV5.