Lowel offers a Sweep Kit, available for $25. Considering what you receive, I recommend getting it because once you receive your Ego light, many different ideas will be brainstorming, and the Ego Sweep is the perfect companion to get those ideas out of your head, and into the camera's eye.

Lowel Ego Sweep Kit

When you purchase the Lowel Ego Sweep Kit, the following materials are available to you:
Lowel Ego Background Support
Black Sweep
Green Sweep
White Sweep
Red Sweep
Orange Sweep
Brown Sweep
Pink Sweep
Purple Sweep
Yellow Sweep
Blue Sweep
Lowel provides several sweep colors which should cover most of your shooting needs. And if there's a color or pattern which is specific to your artistic creation? Great. Just use the supplied background support which already has the clips ready to attach your own sweep pattern, and you're ready to go. It's that simple.

The sweeps Lowel includes in the kit measure out to 24" (W) x 36" (H). These are some pretty large sweeps.

What Exactly Is A Sweep?

Chances are, you've probably used a similar prop for taking images, but you've called it by some other name. A sweep is a background which has no visible corners. The background blends into the foreground, and all you see, is a one continuous pattern. This effect is highly sought after for tabletop images because it is less distracting than most other forms of background lighting effects, and enables the viewer to center their attention more on the object or subject. If you purchase the Lowel Ego Sweep Kit, you'll come to enjoy the benefits of a "sweeping image".

The image below is an example of how a sweeping background can bring your object/subject to the center of attention: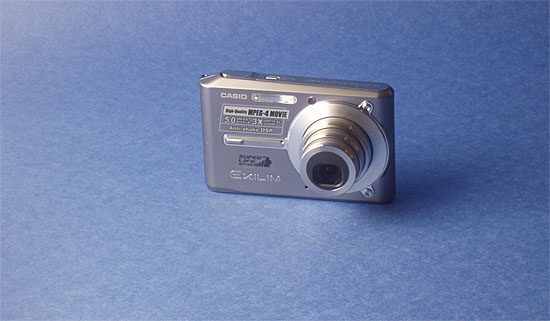 The image above normally wouldn't have such a wide framing shot characteristic, displaying more background than the target being shot. The reason for this, is to show how nice a gradient background can be obtained. Even Photoshop can't create such an effect. Maybe someday it will, but for now, the real thing is still preferred for backgrounds.
As an FYI, if you're a regular DigitalDingus viewer, you will see examples of a sweep in use in the upcoming Casio Exilim EX-S500 review as well as future reviews.