Honestech VHS To DVD 3.0
Video Capture Input: S-Video or Composite RCA
Video Capture Output: USB2.0
Weight: 60g (~2 oz)
Warranty: 1 year
Official Website: Honestech.com
MSRP: $99.99 | Click For Best Price

The packaging for honestech's VHS to DVD 3.0 Deluxe box was typical of a software box, but still good enough to keep all accessories and hardware in good condition upon arrival and opening. The retail box itself is the newer compact software boxes you see on the shelves. Some software manufacturers still make their boxes tall and wide, but honestech makes their box only 7.5" tall, and 5.5" wide, with a 2.25" depth. This form factor really comes in handy because accumulation of retail software boxes can become a nuisance after a while. With the smaller size like this, you can fit more boxes onto smaller shelves which looks a lot more concise and clean as well.

What's In The Box

Here is what I found in the honestech VHS to DVD 3.0 Deluxe box:
USB2.0 Video Capture Device (My VID BOX)
honestech VHS to DVD 3.0 Deluxe CD
Quick Start Guide
User Guide
USB cable
My VID BOX
VHS to DVD 3.0 Deluxe includes a rather small video and audio capture device, called the My VID BOX, which accepts either S-Video or composite inputs. The output signal is via USB2.0. My VID BOX is only 3.5" wide, around 3/4 of an inch thick, and 2.25" in depth. Since all the processing capability is reliant on your computer, you don't need a box which is much larger. Of course, the trade-offs are you need an adequate computer to handle the video capture data.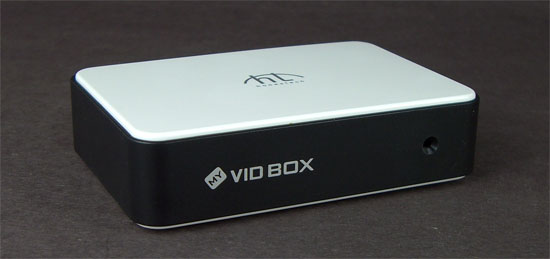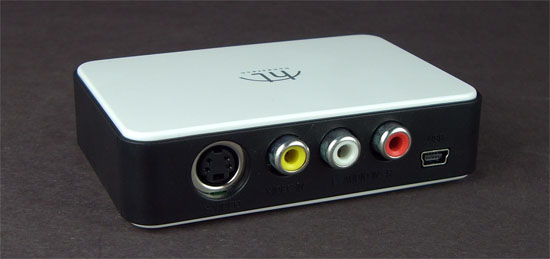 honestech VHS to DVD 3.0 Deluxe CD
The VHS to DVD 3.0 Deluxe CD-ROM only contains the program itself and is rather bare. About 57MB on the disc which makes up the entire VHS to DVD 3.0 Deluxe software application.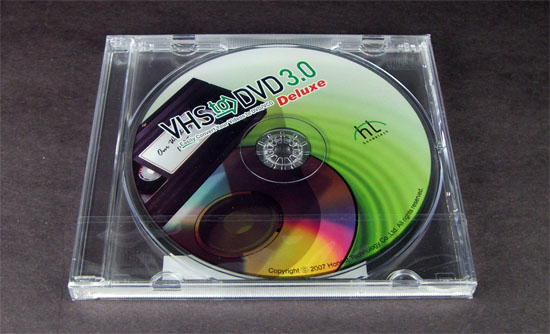 Quick Start Guide & User Guide
honestech does a great job in creating an 18-page Quick Start Guide in addition to their 67-page user manual. The QSG covers the basics in getting started, and I wish other software manufacturers would release such guides. In addition, it's nice to actually see a paper manual. This is rare in the 21st Century, where many manufacturer's think viewing a manual on your computer monitor is just as comfortable as reading one under your favorite lamp, in your favorite R&R chair, while sipping some exotic coffee. There is no comparison. Printed manuals are still the best.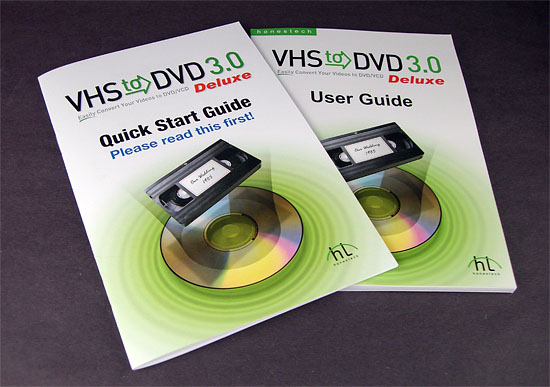 USB Cable
A 40" USB2.0 cable is supplied with VHS to DVD 3.0 Deluxe. At just over 3-feet, it's not as long as I would want it. Setting up an analog device such as a VCR takes some positioning creativity, and I would suggest a USB2.0 cable length of around 8-feet ideally, and 6-feet at the least.