Honestech VHS To DVD 3.0
Video Capture Input: S-Video or Composite RCA
Video Capture Output: USB2.0
Weight: 60g (~2 oz)
Warranty: 1 year
Official Website: Honestech.com
MSRP: $99.99 | Click For Best Price

The VHS to DVD 3.0 Deluxe CD-ROM only contains the program itself and is rather bare. About 57MB on the disc which makes up the entire VHS to DVD 3.0 Deluxe software application. If you happen to have a previous version of VHS to DVD, I suggest you uninstall it, then install the new version. Letting the newer application update the older was my first choice, but VHS to DVD seemed to be confused.

After installing VHS to DVD 3.0, a problem might occur where your VID BOX is not recognized and you will need to have Windows XP recognize it manually. Going into Device Manager should show the following: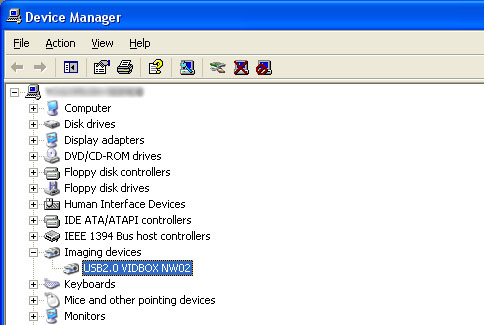 After you find the USB2.0 device, right-click, select "update driver", select "no" on the first prompt for Windows to search the net. Then after clicking next, choose "yes" for windows to install the drivers automatically from the software installed on your computer. This should solve any device recognition issues. Most users may not have this problem at all but I encountered it so I figured some info should be posted about it.

Using VHS to DVD 3.0

There are three major modes of VHS to DVD 3.0 in which you perform your tasks:
Easy Wizard Mode
Advanced Wizard Mode
Audio Recorder
The first mode is Easy Wizard Mode, which simply prompts you to put a DVD into your DVD burner, select the quality of the content to be recorded (Best is 1 hour, Good is 1.5 hours, and Normal is 2 hours). After pressing play on your video source, the content is recorded to a temp folder where it is then burned onto a DVD when finished.

The second mode is Advanced Wizard Mode where you have more options such as a Storyboard panel. You can add multiple audio/video clips, use transition effects, and finalize the video to your own particular taste. For those who would want a much more complicated panel, Adobe Premier or something similar would be a better option, but I found the Storyboard panel interface sufficed for my needs.

The third mode of VHS to DVD 3.0 is Audio Recorder. This mode records only the audio, and captures the audio in MP3 format. The audio quality is fixed at 56Kbps (kilobits per second). This is dangerously low (comparable to your FM radio), and if you're going to use this to record your music from vinyl collection, you will be severely disappointed. My suggestion is to just buy a cheap audio capture card which can record in WAV format and higher MP3 formats as well as a variety of MP3 quality settings. Why honestech doesn't allow for MP3 quality selection is not known, but it should be a no-brainer to include it. A possibility of why no audio quality options are available, is it would interfere with their Fireman product line.

Shown below are screenshots of the three different modes of VHS to DVD 3.0: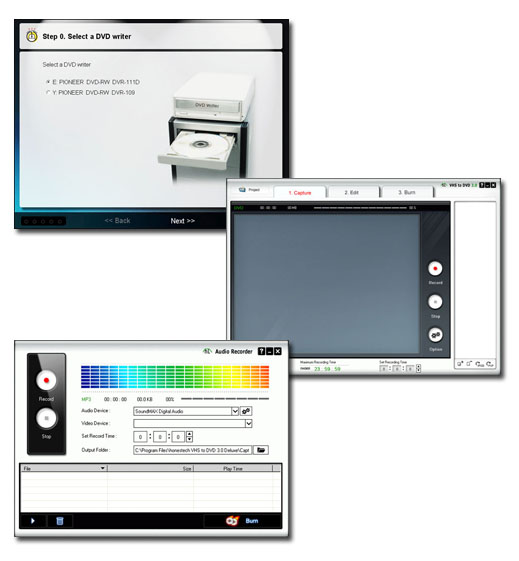 Capturing video from VHS tapes worked great. The rather small video capture device did a very good job at getting the video data off my VHS tapes and onto my hard drive. One irritation I did encounter was that the application FORCES a video split at either 4.38GB or 7.5GB in the "advanced mode"--there is no option for continuous recording. I'm not sure why VHS to DVD 3.0 would force a split in a video segment in the Advanced Mode, because the edit section is where video clips are cut and pasted. Overall, I was pleased with the program and it does perform as promised.