The Walking Dead
The Complete Fourth Season
Features
: Several featuretes, audio commentaries, and deleted scenes.
Codec / Resolution
: MPEG-4 AVC / 1080p
Studio
: AMC Studios
Distributor
: Anchor Bay Entertainment
Theatrical Release
: July 31, 2009
This Release
: August 26, 2014
Region
: Region A
MPAA Rating
: Not Rated
Aspect Ratio
: 1.78:1
Running Time
: 696mins
Number Of Discs
: 5 (Blu-ray)
MSRP
: $129.99 USD
Current Price
:
Check Price / Purchase
Believe it or not, I have all three limited editions of The Walking Dead, and the other two editions were going to be reviewed, but thanks to my procrastination...they are still unfinished. However, I want to get this review of the fourth season of TWD online for your zombie viewing palate.
Some might wonder why I bother purchasing these limited editions, but I think I'm not the only one out there who just loves this series, and if there's something extra to put on my shelf...we'll spend a few extra bucks to do it. I have to say however, the Zombie Head Edition is my favorite, and I was a little taken back with the Zombie Head Aquarium being about half the size of the head.
For the third limited presentation, we have the Tree Walker display, and after looking it over a few times, it's a much better edition than the previous. The design is detailed, and the texture of the Tree Walker is much more like the original Zombie Head.
This Blu-ray review is going to be a little more detailed, as we have a special packaging edition as well as several discs of content, so feel free to click on the links in the usual spots to get directly to those details.
The Plot
At the end of season 3, The Governor (David Morrissey) was defeated, but not without a lot of collateral damage along the way. Daryl (Norman Reedus) had to kill his brother, Merle (Michael Rooker), and we saw the choices of Andrea (Laurie Holden) turning for the worse as she decided to stay with The Governor until the last moment when she realized what a sick pyschopath he really was. And of course, it was way too late.
Since the confrontation with The Governor and his gang, it has been about a month of relatively nothing but routine and even a little bit of getting back to normal at the Woodbury Prison. Crops are being planted (hey, we even have a cute garden and some little piggies!), a sense of belonging and stability is canvassing the entire group, and most of them feel at ease. The prison is the safest place around, with the fences being fortified and routinely monitored. Walkers are killed through particular areas of fences, as they tend to merge from time to time, putting much more pressure on the fence structures, which could result in a major breach.
Unfortunately, we know all too well, getting used to a routine is bound to be broken by something tragic.
A rather nasty viral infection works its way into the prison population, and it's up to Hershel (Scott Wilson) to use his limited knowledge of infectious disease control, to figure out a way to keep the group alive.
Of course, there's much more than an infection to worry about, but I'll leave that for your own viewing...
Packaging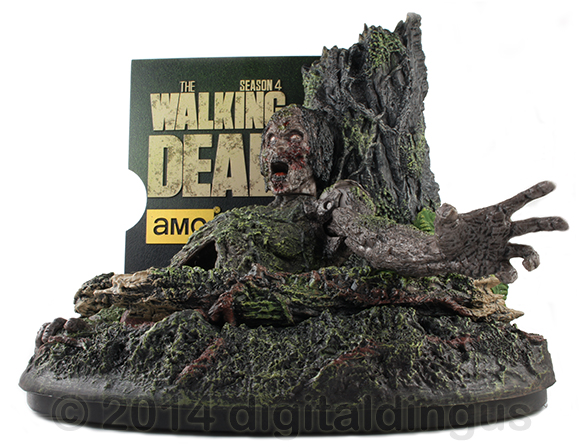 The Walking Dead: The Complete Fourth Season (Tree Walker Edition) (Blu-ray)
Packaging for this edition of The Walking Dead: The Complete Fourth Season came to me like the other two limited editions did, which have a heavy cardboard shipping box, with the retail box inside. This keeps the retail box in pristine condition. And also keeps the Tree Walker from escaping.
This time I'm more pleased. This Tree Walker edition has had a good amount attention done in the manufacturing process. If you run your hands over the Tree Walker, you'll notice it has the same texture as the first edition did. Much less cheap plastic — and surprisingly, at a much lower price than the second edition.
Click here for a more in-depth review of the packaging which includes many more images.
Screencaps
Video
The Walking Dead: The Complete Fourth Season is once again consistent and on par with the previous seasons, so if you're a regular viewer of TWD, you're not going to read anything different here. However, I will say there are a few outdoor scenes which appear overly grainy, but these scenes probably jumped out at me more because I wasn't used to seeing the grain since the first season and second.
Additional Screencaps
Screencap Conclusion
Not much to say except the image quality is consistent (you'll hear this a lot in the review) and looks great. I did notice a little bit more grain in a few scenes but it's due to the type of filtering and film used, as well as keeping the consistency ever since the first season. Great job.